Durability. Guaranteed by FEIN.
FEIN power tools are put through their paces before leaving the factory. And they're so good that we offer a 3-year warranty rather than the statutory 1-year version. All you have to do is register your FEIN power tool.
Register / Login
3-year FEIN PLUS warranty
Register and obtain 3-year warranty.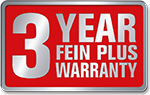 FEIN power tools are subject to tough real-life tests before entering the market. You and a multitude of users in various sectors worldwide benefit from our state-of-the-art tools. We aren't just proud of that, but we're certain that our products will deliver reliable and smooth results for many years to come too. That's why we're making it even clearer why you can work more easily and successfully with FEIN by extending our warranty with the 3-year FEIN PLUS warranty.
Taking out the 3-year FEIN PLUS warranty is incredibly simple:
1. Register your new FEIN power tool online within 6 weeks of purchase.

2. You will be immediately provided with a warranty certificate which entitles you to the 3-year FEIN PLUS warranty. Alternatively, contact your FEIN specialist dealer, who will be happy to help. Guaranteed.

You can obtain detailed information about the scope of the 3-year FEIN Plus warranty here or from your FEIN dealer.
Register FEIN power tool now
Is your FEIN tool within the warranty period?
Warranty
Benefits:
Extension to warranty
Reliable function guaranteed
3-year FEIN PLUS warranty
Warranty hotline
FEIN Industrial Power Tools U.K. Ltd.
4 Badby Park Heartlands Business Park
Daventry, Northants NN11 8YT United Kingdom
Phone: +44 1327 308730
sales@fein-uk.co.uk