The FEIN magnetic drilling system.

With more than 25 years of continuous development, FEIN's magnetic drilling technology has achieved a peak of excellence. FEIN's 2011 acquisition of Jancy Engineering raised the bar even higher, now offering the well-known Slugger trademarked system of portable magnetic drills and annular cutters.
Now you're leaving the FEIN website and entering the Slugger website!


FEIN high frequency – a real boost to industrial production.
What does high-frequency mean?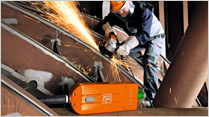 In electrical engineering, frequencies above 10 kHz are described as high-frequency. But for power tools this term is commonly used to describe all frequencies above the standard mains frequency of 50/60 Hz. Modern high-frequency power tools usually operate at a frequency of 300 Hz.
But why is the current from the socket at a higher frequency? One reason is the need for enhanced performance. By increasing the frequency, you can achieve a higher speed. The motor's output power increases as a direct proportion of increased frequency: at 300 Hz, performance is six times better because the frequency is six times greater than at 50 Hz. The frequency converters required for this, that bring the power up to the higher frequency, are connected to the national three-phase grid.
There are also many benefits to using high-frequency power tools in an industrial setting:

There are also many benefits to using high-frequency power tools in an industrial setting. the productivity increase is extremely noticeable, thanks to the increased power, ideal speeds, constant speed stability even under load and the associated very high grinding performance.
Tool wear is minimised.
FEIN high-frequency power tools are also designed for maximum load capacity and with minimum maintenance in mind. This results in longer service lives, shorter downtimes and reduced maintenance and repairs.
In industrial continuous use, for example in multi-shift operation, choosing FEIN high-frequency technology also delivers better cost-effectiveness.
The FEIN high-frequency range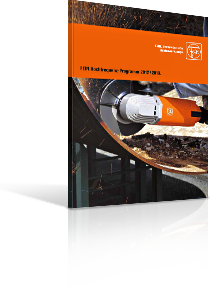 Stationary high-frequency systems.
If several workstations have to be fitted into a given space, we would recommend a permanent installation with one larger frequency converter and permanent cables. FEIN KSR frequency converters are asynchronous-synchronous frequency converters. The output voltage only deviates by ± 1% from the set idling voltage, even under load. The converters are short-circuit-proof. It is standard practice to connect several KSR converters of similar types and sizes in parallel.
The FEIN frequency converters feature protection class IP 54. They are virtually maintenance-free. As a guide, the maintenance interval for the ball bearings is approximately 20,000 operating hours. When installing the frequency converters, the site simply requires good ventilation vibrations during operation. FEIN recommends fitting anti-vibration buffers to minimise (max. air temperature + 40° C).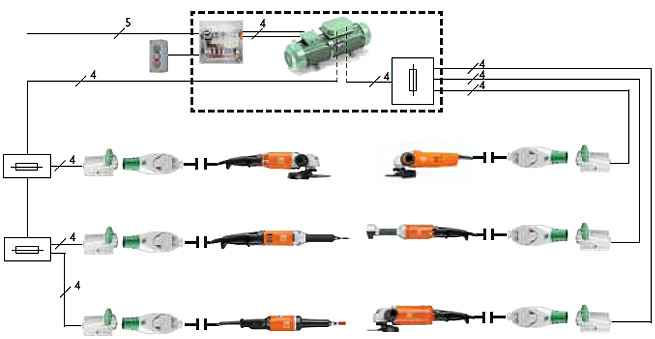 Technical data
Voltage on secondary side
output power
Motor
Motor current (400 V)
Power consumption
Idling power
Scope of services factor
Weight
Length x width x height
Order number:
MO 83 - 7,5 KSR
200 V
7,5 kVA
8 kVA
16 A
11,1 kVA
1,1 kVA
0,8 cos φ
75 kg
794 x 258 x 360 mm
9 28 19
MO 83 - 11 KSR
200 V
11 kVA
11,6 kVA
21,4 A
14,9 kVA
1,4 kVA
0,8 cos φ
110 kg
844 x 258 x 360 mm
9 28 21
MO 83 - 15 KSR
200 V
15 kVA
15 kVA
26,6 A
18,5 kVA
2,4 kVA
0,8 cos φ
164 kg
1058 x 310 x 416 mm
9 28 22
MO 83 - 20 KSR
200 V
20 kVA
20 kVA
34,2 A
23,8 kVA
2,8 kVA
0,8 cos φ
176 kg
1058 x 310 x 416 mm
9 28 28
MO 83 - 25 KSR
200 V
25 kVA
24 kVA
44,2 A
30,7 kVA
3,3 kVA
0,8 cos φ
200 kg
1058 x 310 x 416 mm
9 28 29
MO 83 - 30 KSR
200 V
30 kVA
28 kVA
49,4 A
34,4 kVA
3,7 kVA
0,8 cos φ
240 kg
1058 x 310 x 416 mm
9 28 24
MO 83 - 45 KSR
200 V
45 kVA
41 kVA
75,1 A
52,1 kVA
5,4 kVA
0,8 cos φ
360 kg
1252 x 348 x 463 mm
9 28 26
FEIN benefits

Once installed and started up, system:
Once installed and started up, system requires virtually no maintenance.
No special structural work is needed to install the frequency converter.
Low voltage peaks, distortion factor
All components designed for maximum load capacity in industrial use.
Maximum tool output when operating with a stationary system.
Prevents the power tools used from being thermally overloaded and therefore extends the service life.