C. & E. Fein (Canada) Ltd, operating as the Fein Canadian Power Tool Company, was founded in 1964 making it the second oldest subsidiary of C. & E. Fein GmbH. The present FEIN Canada team is led by Heino Claessens, who is the great - great grandson of Emil Fein, the company's founder. FEIN Canada has endeavored to follow closely in the footsteps of the history and tradition by offering the Canadian market quality power tools supported by a high level of expertise and customer service.
Working to develop the world's second largest geographic country has not been without its challenges. FEIN Canada has grown from a one man, one location operation to a much bigger company with offices located in Mississauga Ontario and Montreal Quebec supporting four additional sales offices across the country. Many of the current team members have been with FEIN Canada for over 20 years, enabling us to offer an extremely high level of expertise and customer service; to effectively and efficiently develop the Canadian market. The result is success in achieving a solid position within the Canadian market and gaining recognition as a pre-eminent supplier of quality power tools and abrasives to the industrial and renovation markets.

In the very early days of FEIN Canada, the business was developed nation-wide though the cross-country travels of the "FEIN Bus". It is interesting to note that we have returned to our roots with the newly introduced FEIN Mobile Training Centres, demonstration vehicles which allow us to demonstrate FEIN, GRIT and SLUGGER products directly to end-users at their location. This hands-on approach, combined with the rapidly growing international presence of the FEIN brand, will reinforce and grow our position in Canadian industry as their application specialists.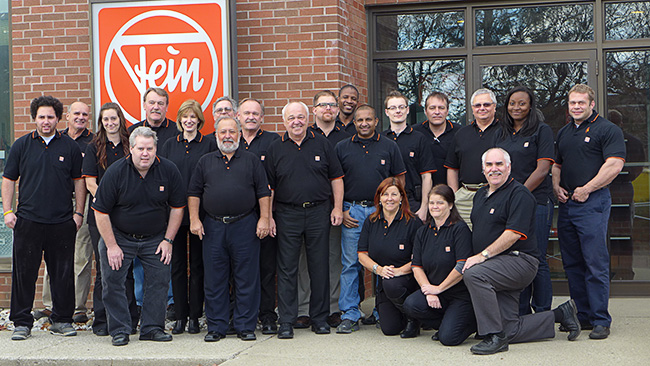 Contact
FEIN CANADA
323 Traders Blvd. East
Mississauga, Ontario, L4Z 2E5
Telephone: 1-800-265-2581 /
905-890-1390
Français 1-800-789-8181
fein@fein.ca