Faster core drilling in metal, in every situation.
More precise, more cost-efficient and faster than ever before: FEIN Magnetic Base Drills deliver the best drilling results in the shortest amount of time. From manual to stationary drilling, FEIN optimally covers all metal drilling applications ranging from 1/16 to 4 in (1.5 to 110 mm) in diameter to a cutting depth of 4 in (100 mm). To meet all your needs, FEIN has developed a complete range of mag drills that meet the criteria of mobility, cost, compactness, versatility and comfort. Core drilling like never before. Anytime, anywhere.
FEIN mag drills in action
For a wide variety of applications
Make an appointment today for a free demonstration.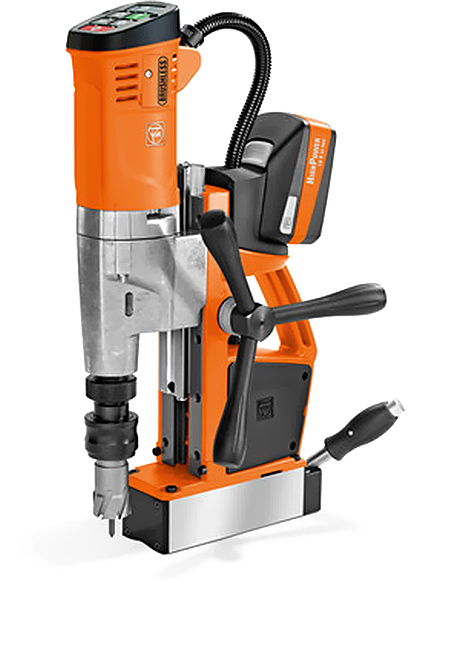 Magnetic base drilling
Whether the requirement is for fully automatic solutions for production work or machines with basic functionality, FEIN is the specialist in magnetic base drilling solutions. We offer hand-operated magnetic base drilling systems, which are ideally suited for flexible use where space is limited, compact magnetic base drills which are as small as possible and even universal solutions which can also be used for twist drilling, tapping, reaming and countersinking. FEIN's magnetic base drills feature intuitive centrally-positioned control elements. Thanks to their optimal power-to-weight ratio, the operator can also perform mobile work overhead. Its extra long stroke enable the longest drill bits to be used, even for twist drilling and tapping. Ever since we invented the very first electromagnetic drilling machine in 1909, we have continued to contribute to the development of magnetic base drills and core bits. Maximum quality, first-class materials and the best possible material processing ensure maximum machine service life. The FEIN high-performance motor guarantees fast work progress over the long term. The high magnetic holding force ensures that the machine stays firmly in place, thus ensuring maximum safety for users. The KBC, KBU and KBA series models additionally feature a magnetic force display. Thanks to their innovative design, the user has an excellent view of the drilling location. Perfect interaction between the magnetic base drill, core bits and accessories: everything is ideally coordinated for drilling in steel, stainless steel or aluminum. Our tools deliver virtually burr free dimensionally accurate hole formation, , at an impressive speed.