The FEIN magnetic drilling system.

With more than 25 years of continuous development, FEIN's magnetic drilling technology has achieved a peak of excellence. FEIN's 2011 acquisition of Jancy Engineering raised the bar even higher, now offering the well-known Slugger trademarked system of portable magnetic drills and annular cutters.
Now you're leaving the FEIN website and entering the Slugger website!

FEIN spare parts
A FEIN power tool is often made completely operational again by installation of an genuine spare part.
That is why you will find everything you need for your tool in the FEIN spare parts catalog.

For a successful spare parts search, you need either the machine model or the machine number.



Example of model label FSC 1.6 X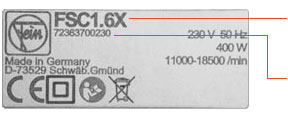 Machine type

or

Machine number /order number
(available beginning in the 2007 production year)


Machine type: FSC 1.6 X e.g. enter FSC* (without quotation marks) under Designation in the spare parts catalog search interface and then select the model FSC 1.6 X and the country version 50 Hz, 230 Volt from the list.

Enter the machine number 72363700230 under Order Number in the spare parts catalog search interface to find your tool immediately.





All prices indicated are the recommended retail price from C. & E. Fein GmbH and do not include the relevant value-added tax (RRP plus VAT). The prices valid on the day of delivery are decisive for the calculation. Subject to transmission errors and changes to technology, form and appearance.
Benefits:
Our workshops Our repair centers stock all regularly required spare parts