The FEIN magnetic drilling system.

With more than 25 years of continuous development, FEIN's magnetic drilling technology has achieved a peak of excellence. FEIN's 2011 acquisition of Jancy Engineering raised the bar even higher, now offering the well-known Slugger trademarked system of portable magnetic drills and annular cutters.
Now you're leaving the FEIN website and entering the Slugger website!


FEIN Center of Excellence
Move your business in the right
direction with the knowledge
and training it takes to succeed.
For interested FEIN Dealers,
contact your local FEIN Sales
Representative.
FEIN Power Tools Center of Excellence Training Center, located in Davenport Iowa, is the premier training facility that educates on every premium power tool offered by FEIN, Slugger by FEIN, and GRIT by FEIN.
Knowledge is power and for our dealers, FEIN product knowledge can be the vehicle to increased sales.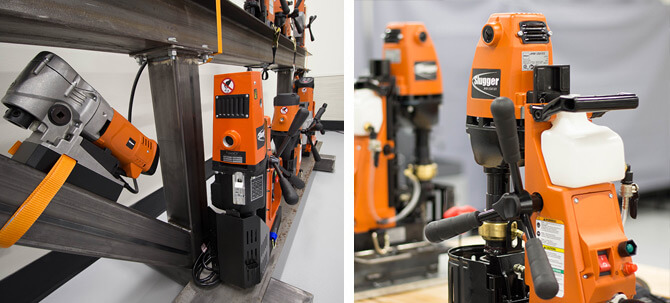 Strong Communication Skills with FEIN
A thorough and wider understanding of our products enables you to use different techniques and methods of presenting a FEIN product to various types of customers. Stronger communication skills empower you to suitably adapt a sales/training presentation for greater impact.
Boost Enthusiasm with FEIN
Armed with deep FEIN product knowledge, a display of enthusiasm and belief in our products may generate excitement among your customers and alleviate uncertainty about the solution that the FEIN product provides for the customer.
Grow Confidence with FEIN
If a customer isn't fully committed to completing a FEIN sale, the difference may simply be the presence (or lack) of credibility or confidence you have towards the product. Becoming educated in FEIN's products and its uses will help cement that confidence.
Make Lasting Impressions with FEIN
One of the reasons that customers are doing so much research on our products is that tremendous competition has driven consumers to believe that all products are similar. FEIN continues to produce high quality products for application solutions that set us apart from the competition with unique patented features, like our patented ant-vibration system in our oscillating MultI-Tools. FEIN believes we can make a difference in the customer's buying experience, but it does require in-depth knowledge of our tools and accessories.
Build Trust with FEIN
Customers have to trust our products, company, and the person they interact with before they make a purchase, and by now, you probably know that the person they interact with is weighed much more heavily than the other two sources. This makes it vital for our dealers to be seen as trustworthy sources of FEIN product information. This makes it crucial for the dealers not only to have enough product knowledge, but the most current product knowledge.
For more information on the new FEIN Center of Excellence, please call 800.441.9878.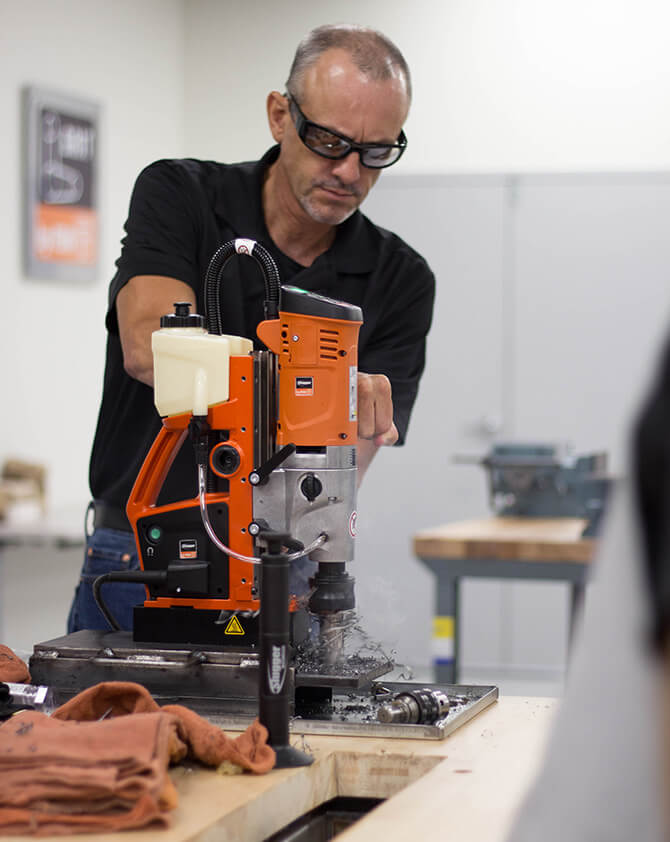 Dealer Support
Retail store POS support
FEIN offers a variety of POS elements for your retail store from POS displays to headers, literature and even secondary placement POS, such as our 3-tier metal display.
Online POS support
FEIN offers a variety of marketing elements to promote our products within your website. This includes, but may not be limited to: product information, marketing copy, imagery, videos and online advertisement banners.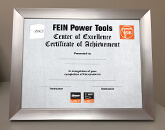 Certificate of Achievement
Once the trainings have concluded, all graduating classmates will receive a "Certificate of Achievement" in either metalworking, interior construction, or both to hang proudly.
Ask your local FEIN Sales Representative for more information.
FEIN Center of Excellence / Jancy Engineering
2735 Hickory Grove Road
Davenport, IA 52804
FEIN Power Tools
1000 Omega Drive, Suite 1180
Pittsburgh, PA 15205
1.800.441.9878
feinus.com