The FEIN magnetic drilling system.

With more than 25 years of continuous development, FEIN's magnetic drilling technology has achieved a peak of excellence. FEIN's 2011 acquisition of Jancy Engineering raised the bar even higher, now offering the well-known Slugger trademarked system of portable magnetic drills and annular cutters.
Now you're leaving the FEIN website and entering the Slugger website!


Durability: A FEIN Guarantee
FEIN power tools are rigorously tested before they are customer-ready. In fact, here at FEIN, we are so confident in our products that we offer a 3-year guarantee instead of the one (1) year required by law. It's as simple as registering your FEIN power tool!
Register / Login
3-year FEIN PLUS guarantee
Register now to lock in your warranty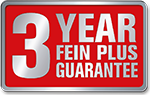 FEIN power tools are subjected to grueling, real-life scenarios before market entrance. Our users, worldwide, benefit from our meticulously tested, state-of-the-art product tool lines. Not only that, but we are confident that our products will deliver consistently reliable results for many years to come. Offering customers our remarkable 3-year FEIN PLUS guarantee gives further evidence of our product assurance. We want our customers to know, without hesitation, that everything will always be fine with FEIN.
Obtaining your 3-year FEIN PLUS guarantee is simple:
1. Register your new FEIN power tool online, within six weeks of purchase.

2. Instantly receive a warranty certificate, activating the benefits of your 3-year FEIN PLUS guarantee. Or, feel free to contact your local FEIN dealer for assistance.

Find comprehensive information regarding the scope of the 3-year FEIN PLUS guarantee here or through your local FEIN dealer.
Register a FEIN power tool now
Is your FEIN tool within the warranty period?
Guarantee
Benefits:
Extension of the guarantee period
Reliable operation guaranteed
3-year FEIN PLUS guarantee