The FEIN magnetic drilling system.

With more than 25 years of continuous development, FEIN's magnetic drilling technology has achieved a peak of excellence. FEIN's 2011 acquisition of Jancy Engineering raised the bar even higher, now offering the well-known Slugger trademarked system of portable magnetic drills and annular cutters.
Now you're leaving the FEIN website and entering the Slugger website!


Durability. Guaranteed by FEIN.
FEIN power tools are put through their paces before the sale. That makes them so good that we offer a 3 year guarantee instead of the 1 year required by law. You simply need to register your FEIN power tool.
Register / Login
3 year FEIN PLUS guarantee
Register and lock in the 3 year guarantee.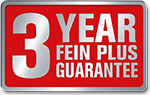 FEIN power tools are subject to tough real-life tests before entering the market. You and a multitude of users in various sectors worldwide benefit from our state-of-the-art tools. We aren't just proud of that, but we're certain that our products will deliver reliable and smooth results for many years to come too. That's why we're making it even clearer why you can work more easily and successfully with FEIN by extending our warranty with the 3-year FEIN PLUS warranty.
Obtaining the 3 year FEIN PLUS guarantee is extremely easy:
1. Register your new FEIN power tool online within 6 weeks of purchase.

2. You immediately receive a guarantee certificate that allows you to enjoy the 3 year FEIN PLUS guarantee. Or feel free to contact your FEIN dealer. He will be happy to help you. Guaranteed.

You can get complete information about the scope of the 3 year FEIN PLUS guarantee here or at your FEIN dealer.
Register a FEIN power tool now
Guarantee
Benefits:
Extension of the guarantee period
Reliable operation guaranteed
3 year FEIN PLUS guarantee