The FEIN magnetic drilling system.

With more than 25 years of continuous development, FEIN's magnetic drilling technology has achieved a peak of excellence. FEIN's 2011 acquisition of Jancy Engineering raised the bar even higher, now offering the well-known Slugger trademarked system of portable magnetic drills and annular cutters.
Now you're leaving the FEIN website and entering the Slugger website!

Careers with FEIN
Your opportunity with prospects
Careers at FEIN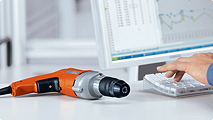 In 2007 all functional areas were centralized at one location. In this connection we have created a modern work environment that ensures short communication and decision paths. Our employees value work with a technology leader that develops, manufactures and distributes application-oriented products that are known in trade and industry as first-class products.
As an independent family business we have made a name for ourselves as a reliable and respected employer in the region (East Wurttemberg). 
This is proven by our associates' above-average length of time with the company. As a company covered by collective agreements we offer you performance-related compensation, attractive qualification and further development opportunities, as well as exciting assignments and projects.
Contact for questions
FEIN Power Tools, Inc.
1000 Omega Drive
Suite 1180
Pittsburgh, PA 15205
Phone: 1-412-922-8886
Toll Free: 1-800-441-9878
info@feinus.com