The FEIN magnetic drilling system.

With more than 25 years of continuous development, FEIN's magnetic drilling technology has achieved a peak of excellence. FEIN's 2011 acquisition of Jancy Engineering raised the bar even higher, now offering the well-known Slugger trademarked system of portable magnetic drills and annular cutters.
Now you're leaving the FEIN website and entering the Slugger website!


Tapping rapid change chuck for JCM 200 Q, JCM 200 U, JCM 206 Q, JCM 256 U
Order No. 9 26 02 079 01 0
Return to overview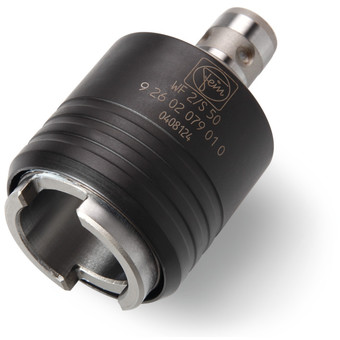 only useable on mag based drill units with reverse rotation. Size 2, with QuickIN fitting, for taps, in combination with tapping inserts, with or without safety clutch, from 5/16 to 5/8 in (M6-M20).

Fits:

AJMU 137 PMQW (AJMU 137 PMQW)
,
JCM 200 QX (JCM 200 QX)
,
JCM 200 U (JCM 200 U)
,
JCM 256 U (JCM 256 U)
,
JCM 312 U (JCM 312 U)
,
JCM 200 auto (JCM 200 auto)
,
JCM 312 auto (JCM 312 auto)