The FEIN magnetic drilling system.

With more than 25 years of continuous development, FEIN's magnetic drilling technology has achieved a peak of excellence. FEIN's 2011 acquisition of Jancy Engineering raised the bar even higher, now offering the well-known Slugger trademarked system of portable magnetic drills and annular cutters.
Now you're leaving the FEIN website and entering the Slugger website!


HSS saw blade
Order No. 6 35 02 196 21 0
Return to overview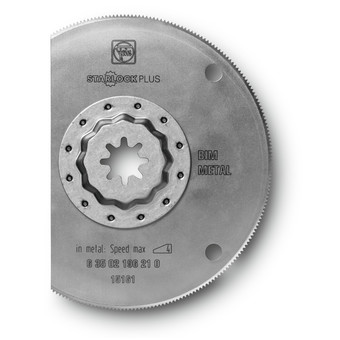 Bimetal for long service life. Metal toothing for sheet metal up to approx. 1/16 in. Also for plastics, GFRP, wood, glazing compound, brass and bronze. Work flush with the surface.
Segmented, ideal for working in corners and on edges without over cut.

Fits:

FEIN Professional-Set Wood (FSC 500 QSL)
,
AFSC 18 QSL - Wood (AFSC 18 QSL)
,
FEIN Professional-Set Caulking (FSC 500 QSL)
,
FSC 500 QSL (FSC 500 QSL)
,
FEIN cordless MultiTalent QuickStart (AFMT 12 QSL)
,
FEIN MultiMaster Cordless (AFMM 18 QSL)
,
FEIN MultiTalent Start Q (FMT 250 QSL)
,
FEIN MultiMaster Top (FMM 350 QSL)
,
FEIN MultiMaster QuickStart (FMM 350 QSL)
,
FEIN MultiMaster Start Q (FMM 350 QSL)