The FEIN magnetic drilling system.

With more than 25 years of continuous development, FEIN's magnetic drilling technology has achieved a peak of excellence. FEIN's 2011 acquisition of Jancy Engineering raised the bar even higher, now offering the well-known Slugger trademarked system of portable magnetic drills and annular cutters.
Now you're leaving the FEIN website and entering the Slugger website!


E-Cut Carbide Pro
Order No. 6 35 02 236 26 0
Return to overview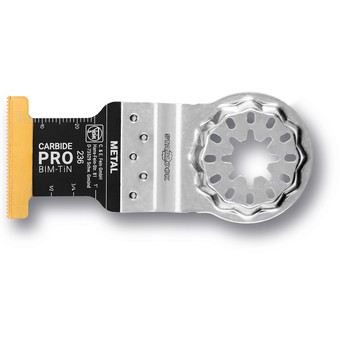 TiN coated hard metal plunge cut saw blade with outstanding wear resistance. 100% higher service life compared to non-coated hard metal saw blades. 30 times longer lifespan compared to HSS saw blades. The perfect choice for hard materials such as ferrous metals, stainless steel or copper pipes. Can even be used for tempered screws (Spax) and high-strength machine screws. Also ideal for abrasive materials like brick, masonry and cement fiber slabs, not to mention laminate, CFRP and GFRP. Strong cutting performance and cutting quality in all wood materials such as hardwood and particle board.
Narrow, waisted shape for optimal cutting speed and good swarf removal.

Fits:

FEIN MultiMaster Start Q (FMM 350 QSL)
,
FEIN MultiMaster QuickStart (FMM 350 QSL)
,
FEIN MultiMaster Top (FMM 350 QSL)
,
FEIN MultiMaster Cordless (AFMM 18 QSL)
,
FEIN cordless MultiTalent QuickStart (AFMT 12 QSL)
,
FSC 500 QSL (FSC 500 QSL)
,
FEIN Professional-Set Wood (FSC 500 QSL)
,
FEIN MultiTalent Start Q (FMT 250 QSL)