FEIN spare parts
FEIN has always a substitute
The FEIN spare parts catalogue therefore contains everything you need for your tools.

For a successful spare parts search, you need either the tool type or number.



Example of type plate FSC 1.6 X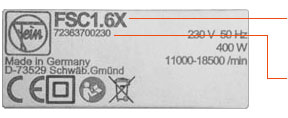 Machine type

or

Machine number /order number
(available beginning in the 2007 production year)


Machine type: FSC 1.6 X z.B. in Suchmaske des ETK unter Benennung "FSC*" (ohne Anführungszeichen) eingeben und dann aus der Liste das Modell "FSC 1.6 X" und die Ländervariante 50Hz, 230V auswählen.

Enter tool number: 72363700230 in spare parts catalogue search screen under order number and you will find your tool immediately.





All prices indicated are the recommended retail price from C. & E. Fein GmbH and do not include the relevant value-added tax (RRP plus VAT). The prices valid on the day of delivery are decisive for the calculation. Subject to transmission errors and changes to technology, form and appearance.
Benefits:
Our workshops Our repair centers stock all regularly required spare parts