The FEIN magnetic drilling system.

With more than 25 years of continuous development, FEIN's magnetic drilling technology has achieved a peak of excellence. FEIN's 2011 acquisition of Jancy Engineering raised the bar even higher, now offering the well-known Slugger trademarked system of portable magnetic drills and annular cutters.
Now you're leaving the FEIN website and entering the Slugger website!


Separate pipes with FEIN
With FEIN pipe milling machines you always work safely, accurately and reliably.
Examples of use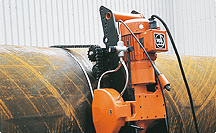 In pipeline construction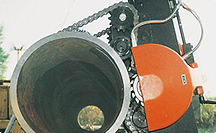 For steel pipe
For concrete-lined pipe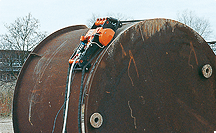 In tank fabrication
High performance professionals.
In the pipe-cutting technology field, FEIN pipe-milling machines are known worldwide. Their operational area extends from cutting to length prior to laying to separating already-laid pipe. Whether cast iron or steel pipe used for oil, gas and water in pipelines, public supply networks, power plants, process engineering systems or tank construction – with FEIN pipe milling machines you work dependably and accurately. Optimized technology ensures maximum cutting performance.
Proven technology for flawless results.
Especially under difficult conditions such as pipe breaks, the system shows its operational capabilities. Thus, adaptation to different pipe materials by selection of the correct gear setting produces perfect cutting and feed speeds. This makes cost-effective use of HSS and carbide tools possible.
Exact tracking, clean cuts.
The two-chain system with separate spring tensioning capsules and adjustable track setting enable strain-free and precise cuts. The chain tension ensures mark-free circulation. This also makes the FEIN pipe milling machines suitable, for example, for the processing of high pressure pipe. The chip-removing processing ensures clean pipe ends. With the appropriate tool attachments, you can produce smooth separation cuts or profile cuts for V or U weld grooves. All this with simple installation and easy handling.
at a glance
High performance, durable pneumatic and three-phase motors for use under extreme conditions.
Electric motors also usable with very low negative temperatures.
Electric pipe milling machines with forward and reverse (reverse only in no-load operation).
Form and separation cuts with a form cutter or saw blade.
Precise tracking due to the two chain system, adjustable track setting and double chain tension.
Crack-free pipe ends.
Available in 2 drive variants with different feed and speed steps for cutting speeds that match materials.
Gearbox overload protection using a slip clutch.
Special models with split driveshaft for separating thick-walled pipe and tanks available upon request.
Extensive FEIN accessory range.
RSG/RDG 18
– the solution for pipes from 10" to 120" diameter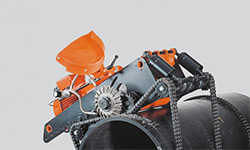 Simple assembly due to optimized handling.
NEW: RSG/RDG 1500
– the solution for pipes from 10" to 60" diameter
Due to its low weight construction, the machine can be set up by only two persons. Additionally, shortened side plates ensure minimal space requirements. The feed can be switched on and off.
The special plus: with the optionally available guiding chain, straight cuts without offset are guaranteed.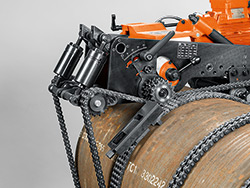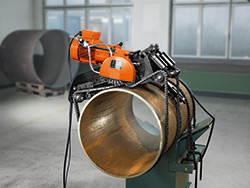 Important notice
EC guideline 94/9EG ATEX (Atmosphères Explosibles) We wish to point out that the FEIN type RDG/ RSG/RSGex pipe milling machines are not approved for use in potentially explosive atmospheres and no EC type-examination certificates in accordance with guideline 94/9EG exist for this equipment. (However, the electric motor and auxiliary switch built into the pipe milling machine RSGex conform to ATEX.)
NEW RSG/RDG 1500
RSG/RDG 18 including accessoires