The FEIN magnetic drilling system.

With more than 25 years of continuous development, FEIN's magnetic drilling technology has achieved a peak of excellence. FEIN's 2011 acquisition of Jancy Engineering raised the bar even higher, now offering the well-known Slugger trademarked system of portable magnetic drills and annular cutters.
Now you're leaving the FEIN website and entering the Slugger website!


FEIN Professional-Set Wood
Oscillating multi-tool - 450 W
Order No. 7 229 46 68 09 0
Return to overview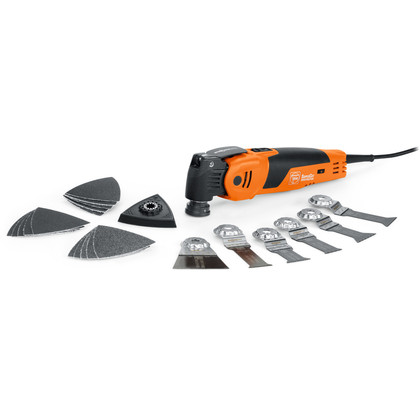 The highest performance system for interior construction and renovation, with special accessories for fast, accurate sawing when assembling wood.
Highest quality and stability due to the use of ball and needle bearings together with a motor and gearbox designed for continuous use and heavy loads.
Complete Set in a high-quality carrying case with the most important accessories for the commonest applications in this field.
Also usable as a full-fledged triangular sander, allowing sanding close to edges at corners and angles without kickback.
StarlockMax tool mount with outstanding torque transfer, fits all Starlock, StarlockPlus and StarlockMax accessories.
Convenient QuickIN rapid-clamping system
Powerful oscillating motion for maximum work progress.
Precise cuts, even by hand, without clamps or vises.
Electronic speed control.
FEIN High-Power-Motor for outstanding performance.
Wide selection of accessories available for all applications.
Price includes
1 FEIN SuperCut FSC 500 QSL

4 E-Cut Long-Life saw blades (types 160, 161, 201, 203)

2 E-Cut Universal saw blades (types 151, 152)

1 backing pad

15 sanding sheets (5 each of grits 60, 80, 120)

1 Systainer Sys 1
show all
Technical data
Power consumption450 Watts
Power output250 Watts
Oscillations10,000-19,500 rpm
Cable with plug16 ft
Weight according to EPTA3.5 lbs
Show all technical attributes
Downloads