The FEIN magnetic drilling system.

With more than 25 years of continuous development, FEIN's magnetic drilling technology has achieved a peak of excellence. FEIN's 2011 acquisition of Jancy Engineering raised the bar even higher, now offering the well-known Slugger trademarked system of portable magnetic drills and annular cutters.
Now you're leaving the FEIN website and entering the Slugger website!


FEIN Professional-Set Caulking
Oscillating multi-tool - 450 W
Order No. 7 229 46 69 09 0
Return to overview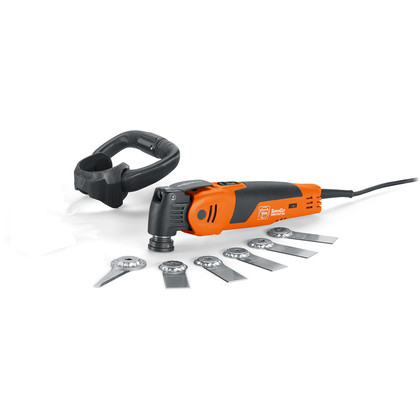 The highest performance system for interior construction and renovation, with special accessories for the most common applications in caulking/ sealant repair.
Highest quality and stability due to the use of ball and needle bearings together with a motor and gearbox designed for continuous use and heavy loads.
Convenient QuickIN rapid-clamping system
StarlockMax tool mount with outstanding torque transfer, fits all Starlock, StarlockPlus and StarlockMax accessories.
Powerful oscillating motion for maximum work progress.
Electronic speed control.
FEIN High-Power-Motor for outstanding performance.
Wide selection of accessories available for all applications.
Price includes
1 FEIN SuperCut FSC 500 QSL

1 elongated pointed blade (type 239)

5 cutter blades, straight (type 236)

1 tool case
Technical data
Power consumption450 Watts
Power output250 Watts
Oscillations10,000-19,500 rpm
Cable with plug16 ft
Weight according to EPTA3.5 lbs
Show all technical attributes
Downloads