The FEIN magnetic drilling system.

With more than 25 years of continuous development, FEIN's magnetic drilling technology has achieved a peak of excellence. FEIN's 2011 acquisition of Jancy Engineering raised the bar even higher, now offering the well-known Slugger trademarked system of portable magnetic drills and annular cutters.
Now you're leaving the FEIN website and entering the Slugger website!


FEIN SuperCut FSC 1.7 Q
Oscillating multi-tool - 450 W
Order No. 7 229 48 61 09 0
Return to overview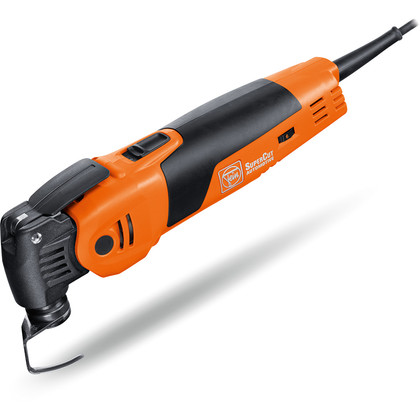 The powerful oscillating multi-tool with rapid clamping system is exclusively designed for use in the automotive sector and optimally configured for the applications (such as cutting out windows, work on the body).
Ideal for removal of urethane bonded glass and automotive repair.
FEIN Anti-Vibration System. Up to 70% less vibration due to complete decoupling of the outer motor housing. For durable safe work.
Durable, overload-proof 450 W FEIN High-Performance Motor with high copper content for outstanding cutting speeds and maximum work progress.
Tacho generator. High-quality electronics for constant speed, even under load. infinitely variable electronic speed adjustment.
Hexagonal tool mount with decisive power connection between machine and tool.
Metal drive head. High load capacity and maximum service life.
Large operating radius thanks to the 16[5] ft.[m] fine-strand, industrial-quality, rubber cable.
Large selection of accessories for cutting, sawing, sanding, scraping, etc.
Price includes
1 protective cover for accessory changes

1 whetstone (6 37 19 010 01 4)

1 tool case
Technical data
Power consumption450 Watts
Power output250 Watts
Oscillations10,000-19,500 rpm
Tool mountHexagon
Tool changeQuickIN
Show all technical attributes
Downloads