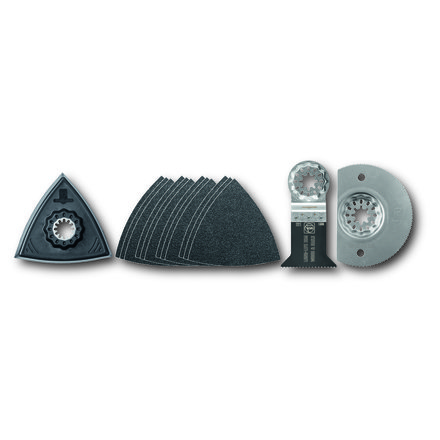 Universal accessory kit
15 piece accessory set. Ideal accessory selection for all frequently recurring home renovation and repair work. Universally usable for sanding right to corners and edges without kickback. For sawing all wood materials, even those embedded with nails, or especially for sawing soft materials into the border area without overcut. Attractive savings compared to individual purchase. With Starlock mount, suitable for every popular oscillating multi-tool on the market. Also compatible with Bosch, Makita, Metabo, Ridgid, Skil and many more. Contents: 1 triangular backing pad (80 mm) with 3 sanding sheets of each grit, grits 60, 80, 120, 180, 1 E-Cut Long-Life saw blade 50 mm, 1 saw blade, segmented Ø 85 mm.
Will the accessories fit my machine?
Test compatibility and find your perfect matching accessory for your oscillator.
Check now
More Sanding accessories

Starlock: the new tool mounting standard for oscillating power tools.
Sometimes it's the details that count. This is certainly true for Starlock, the new innovative tool mounting. It makes tool changes possible in just 3 seconds. At the same time, it guarantees a perfect fit for accessories and therefore maximum power transmission. This results in even more work progress in every application.
3 performance classes for reliable protection of power tools against overload and damage.
suitable for:
FEIN MultiTalent
FEIN MultiMaster
FEIN SuperCut
Bosch, Makita, Ridgid, Milwaukee and many more.
FEIN MultiTalent
FEIN MultiMaster
FEIN SuperCut
Bosch