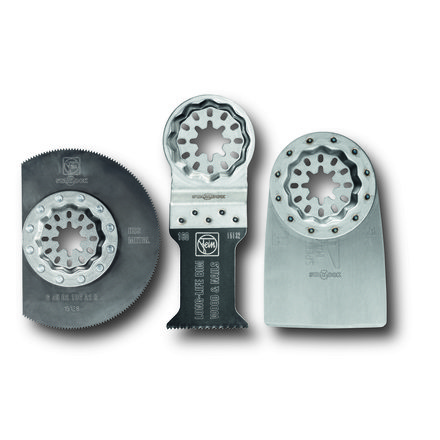 Flooring renovation accessory kit
3-part accessory set for a large number of different kinds of work in floor surface restoration and renovation. Universally applicable for numerous sawing jobs such as door jamb shortening and making precise adjustments to parquet floorboards, as well as making cutouts to base boards after they have been installed. They also remove adhesive residue, elastic sealants or carpet residues cleanly and completely. Attractive savings compared to individual purchase. With Starlock mount, suitable for every popular oscillating multi-tool on the market. Also compatible with Bosch, Makita, Metabo, Ridgid, Skil and many more. Contents: 1 HSS saw blade, segmented Ø 85 mm, 1 E-Cut Long-Life saw blade 35 mm, 1 rigid, short scraper.
Will the accessories fit my machine?
Test compatibility and find your perfect matching accessory for your oscillator.
Check now
More Sanding accessories

Starlock: the new tool mounting standard for oscillating power tools.
Sometimes it's the details that count. This is certainly true for Starlock, the new innovative tool mounting. It makes tool changes possible in just 3 seconds. At the same time, it guarantees a perfect fit for accessories and therefore maximum power transmission. This results in even more work progress in every application.
3 performance classes for reliable protection of power tools against overload and damage.
suitable for:
FEIN MultiTalent
FEIN MultiMaster
FEIN SuperCut
Bosch, Makita, Ridgid, Milwaukee and many more.
FEIN MultiTalent
FEIN MultiMaster
FEIN SuperCut
Bosch