The FEIN magnetic drilling system.

With more than 25 years of continuous development, FEIN's magnetic drilling technology has achieved a peak of excellence. FEIN's 2011 acquisition of Jancy Engineering raised the bar even higher, now offering the well-known Slugger trademarked system of portable magnetic drills and annular cutters.
Now you're leaving the FEIN website and entering the Slugger website!


WPO 14-15 E Marine Set
Boat polisher
Order No. 7 221 48 50 07 0
Return to overview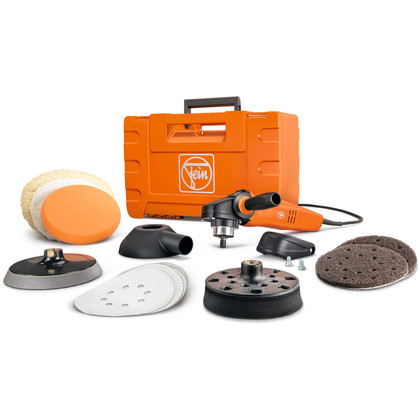 Polishing Set for boat maintenance.
Ideal speed range with infinitely variable speed control for professional surface treatment on boats.
Maximum speed stability at any load throughout the entire adjustment range due to mechanical gear reduction in combination with the FEIN HIGH-POWER-MOTOR.
Special system accessories for the efficient preparation of used, new and high-scratch-resistance paints as well as cleaning, sanding and polishing of boat surfaces and gelcoat layers.
Convenient speed adjustment.
Stays cool under continuous use.
The grip cap provides outstanding ergonomics.
Spindle lock.
Left and right handed operation.
Self-start lock.
Soft start.
Carbon brushes with automatic switch-off function.
Converts to a rotary sander with extraction hood and backing pad.
Wide range of accessories.
This machine is also available without accessories (7 221 48).
Technical data
Power consumption1,200 Watts
Power output750 Watts
No load speed500-1,500 rpm
Cable with plug13 ft
Weight according to EPTA5.5 lbs
Show all technical attributes
Downloads