The FEIN magnetic drilling system.

With more than 25 years of continuous development, FEIN's magnetic drilling technology has achieved a peak of excellence. FEIN's 2011 acquisition of Jancy Engineering raised the bar even higher, now offering the well-known Slugger trademarked system of portable magnetic drills and annular cutters.
Now you're leaving the FEIN website and entering the Slugger website!


KS 10-38 E kit
Fillet weld grinder
Order No. 7 221 67 60 09 0
Return to overview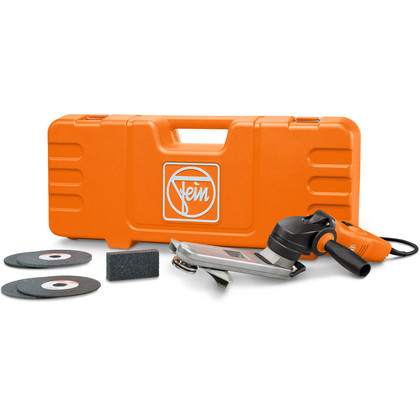 Compact fillet weld grinder for hard-to-reach areas.
Flexible operation using the tool-free, rotating arm.
Low-profile design for corners, angles and hard-to-reach places.
Long belt drive service life due to maintenance-free tensioning system.
Spindle lock for quick tool changes.
Spark guard is adjustable and removable without tools.
Electronic speed control.
Made in Germany quality.
H 07 Industrial-strength cable.
Soft-start.
Self-start lock.
Technical data
Power consumption800 Watts
No load speed1,350-3,750 rpm
Circumferential speed96.8 ft/sec
Weight according to EPTA7.1 lbs
Tool dia.6 In
Downloads