The FEIN magnetic drilling system.

With more than 25 years of continuous development, FEIN's magnetic drilling technology has achieved a peak of excellence. FEIN's 2011 acquisition of Jancy Engineering raised the bar even higher, now offering the well-known Slugger trademarked system of portable magnetic drills and annular cutters.
Now you're leaving the FEIN website and entering the Slugger website!


JHM 4 x 4
Magnetic Base Drill up to 4 in (101 mm)
Order No. 3 13 42 621 20 6
Return to overview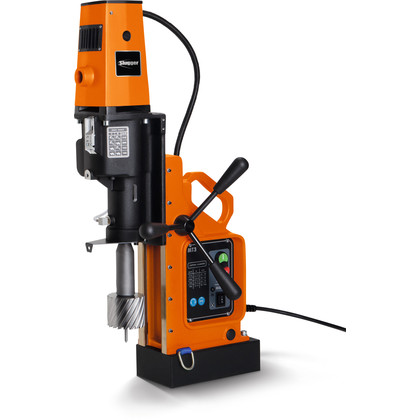 With four-speed, 4 in diameter capacity with MT 3.
4-speed gear box powering through small and large holes.
Versatile, MT 3 capable.
Smart Magnet TM circuitry for safe drilling on marginal surfaces.
Chip guard.
Gravity-fed, external coolant.
Easy to use control panel.
Concealed motor wiring.
Pilot pin coolant feed.
Dovetail feed guides.
Price includes
1 case

1 coolant tank

1 safety strap

4 pilot pins

1 allen key 5 mm

1 touch guard

1 carrying handle
show all
Technical data
HSS annular cutters max. dia.4 In
Mag base, max. drilling depth3 In
Twist drill max. dia.1 1/4 mm
Power consumption1,400 Watts
No-load speed: 1st gear150 rpm
Show all technical attributes
Downloads