The FEIN magnetic drilling system.

With more than 25 years of continuous development, FEIN's magnetic drilling technology has achieved a peak of excellence. FEIN's 2011 acquisition of Jancy Engineering raised the bar even higher, now offering the well-known Slugger trademarked system of portable magnetic drills and annular cutters.
Now you're leaving the FEIN website and entering the Slugger website!


BF 10-280 E Start-Set
Compact belt file
Order No. 7 228 05 51 09 0
Return to overview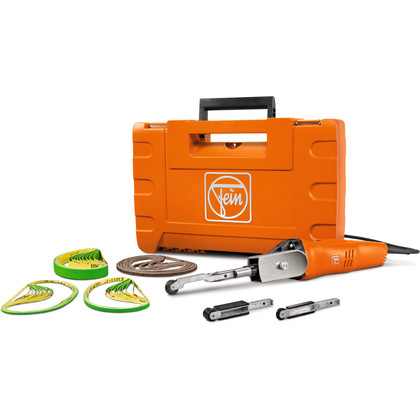 Start-Set belt file for corners and edges in stainless steel processing.
FEIN high-performance motor for maximum material removal and constant speed, even under heavy load.
Easy operation - Tool-free, 180° arm rotation, tool-free belt installation and alignment.
Start-Set with offset and straight grinding arms for varied applications, ceramic grinding belts for efficient weld seam processing, and fleece belts in various widths for finishing work.
Ideal belt speeds.
Perfect belt tracking.
For belts from 3/32 to 3/4 in wide.
Infinitely variable speed. Ideal for protection of sensitive surfaces.
Soft-start.
Self-start lock.
H 07 Industrial-strength cable.
Wide range of accessories available.
Technical data
Power consumption800 Watts
Power output550 Watts
No load speed10,000-28,000 rpm
Belt speed39-105 ft/sec.
Cable with plug13 ft
Show all technical attributes
Downloads