The FEIN magnetic drilling system.

With more than 25 years of continuous development, FEIN's magnetic drilling technology has achieved a peak of excellence. FEIN's 2011 acquisition of Jancy Engineering raised the bar even higher, now offering the well-known Slugger trademarked system of portable magnetic drills and annular cutters.
Now you're leaving the FEIN website and entering the Slugger website!


GWP 10
Tapper up to 3/8 in (M10)
Order No. 7 209 38 60 09 0
Return to overview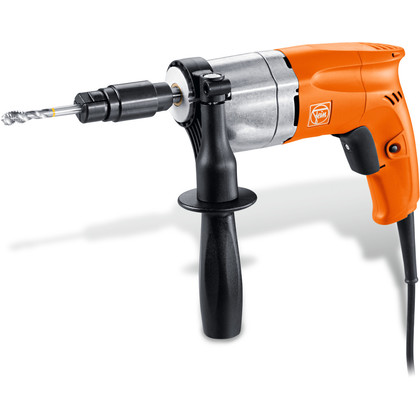 Fast, precise tapper with reversing gear for faster results.
Exceptional speed thanks to reversing gear for automatic rotation reversal when withdrawing the drill spindle from the threaded hole. Fast, 680 rpm return for shorter cycle times.
Outstanding precision thanks to a play-free connection of drill shaft and tapping chuck using a B12 tapered mount for high concentricity accuracy. Accurate tapper mounting in the tapping chuck for best work results.
FEIN Sensitive Grip applies the feed pressure directly along the tapping axis with the guiding hand ideally positioned.
FEIN stable speed high-performance motor.
Width across corners only 29/32 in (23 mm).
Metal gear head.
Torsion-free, barrel-type motor housing.
Price includes
1 handle

Tapping chuck not included in price
Technical data
Power consumption450 Watts
Power output250 Watts
No-load speed in reverse0-1,000 rpm
Load speed when cutting0-450 rpm
Load speed in reverse0-680 rpm
Show all technical attributes
Downloads