The FEIN magnetic drilling system.

With more than 25 years of continuous development, FEIN's magnetic drilling technology has achieved a peak of excellence. FEIN's 2011 acquisition of Jancy Engineering raised the bar even higher, now offering the well-known Slugger trademarked system of portable magnetic drills and annular cutters.
Now you're leaving the FEIN website and entering the Slugger website!


JCM 200 auto
Mag Drill unit up to 2 [50] in[mm]
Order No. 7 270 46 61 12 0
Return to overview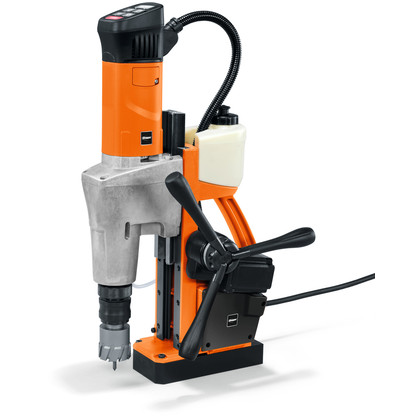 Light, smart, fully automatic 2-speed machine. Saves time and expense in the workshop and on the construction site.
Time and cost savings in large volume drilling due to digitally controlled drill feed.
Predictable work times on contract and serial work thanks to repeatable and consistent drilling times.
Universal operation, such as tapping in manual machine mode using forward/reverse and the MK3 interface.
Slugger high-power motor with stable speed.
Electronic speed control.
High magnetic holding force.
Convenient magnetic holding force gauge.
Integrated cooling tank.
Tilt sensor.
Control pads in the field of view.
Optional Weldon QuickIN arbor is available. (uses standard 3/4 in Weldon shank cutters).
Price includes
1 case

1 coolant tank

1 safety strap

1 chip hook

1 pilot pin 4 1/8 in (105 mm)

1 drift

1 touch guard
show all
Technical data
Carbide annular cutter max. dia.2 In
HSS annular cutters max. dia.1 9/16 In
Mag base, max. drilling depth2 In
Twist drill max. dia.11/16 x 7/8 mm
Tapping5/8 In
Show all technical attributes
Downloads