The FEIN magnetic drilling system.

With more than 25 years of continuous development, FEIN's magnetic drilling technology has achieved a peak of excellence. FEIN's 2011 acquisition of Jancy Engineering raised the bar even higher, now offering the well-known Slugger trademarked system of portable magnetic drills and annular cutters.
Now you're leaving the FEIN website and entering the Slugger website!


FEIN MultiMaster Cordless
Cordless oscillating multi-tool
Order No. 7 129 22 61 09 0
Return to overview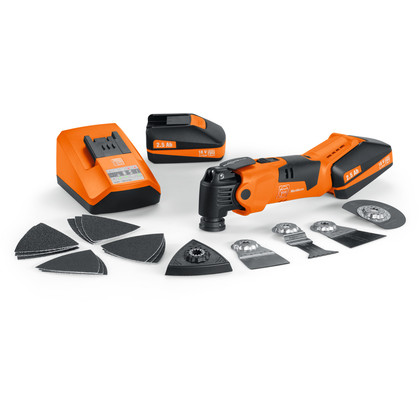 The high performance, cordless universal system for interior construction and renovation with QuickIN and accessories for a wide range of applications.
Self-supporting motor with vibration decoupling for outstanding vibration and noise reduction.
High torque motor with performance identical to corded version.
Convenient, tool-free accessory change, using the QuickIN rapid change system.
StarlockPlus tool mount with outstanding torque transfer, fits all Starlock and StarlockPlus accessories.
High-performance 18 V li-ion batteries with SafetyCell technology.
Capacity indicator on every battery.
Integrated interface for mounting additional system accessories.
Wide selection of accessories available for all applications.
Price includes
1 FEIN cordless MultiMaster AFMM 18 QSL

1 backing pad

3 of each sanding sheet (grits 60, 80, 120, 180)

1 rigid scraper blade

1 HSS segment saw blade

1 E-Cut Long-Life saw blade 2-9/16 in (65 mm) (type 161)

1 universal E-Cut saw blade 1-3/4 in (44 mm) (type 152)

1 x rapid charger ALG 50

2 Li-ion battery packs (18 V / 3 Ah)

1 tool case
show all
Technical data
Battery voltage18 V
Battery capacity3
Weight incl. battery4.0 lbs
Tool mountStarlockPlus
Tool changeQuickIN
Show all technical attributes
Downloads