The FEIN magnetic drilling system.

With more than 25 years of continuous development, FEIN's magnetic drilling technology has achieved a peak of excellence. FEIN's 2011 acquisition of Jancy Engineering raised the bar even higher, now offering the well-known Slugger trademarked system of portable magnetic drills and annular cutters.
Now you're leaving the FEIN website and entering the Slugger website!


SCT 5-40 M
Drywall Screwdriver with autofeed attachment up to 3/16 in
Order No. 7 213 06 50 03 0
Return to overview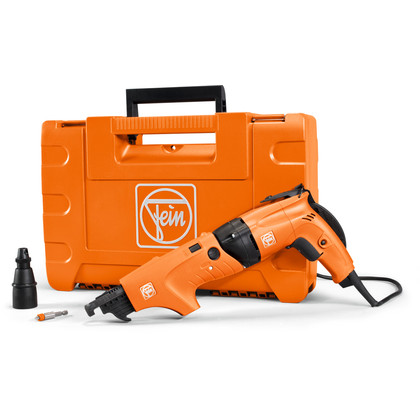 Magazine screwdriver with silent clutch for fast volume screw driving.
Drywall screwdriver SCT 5-40 X incl. autofeed attachment.
QuickIN for tool-free removal collated strips, setting of screw length and driving depth as well as quick cleaning.
Optimized speed.
One of the lightest professional screwdrivers in its class.
Quiet FEIN CLIC-STOP clutch.
Point placement accuracy with variable electronic speed setting.
Patented screw transport system.
Additional depth stop for non-collated screws.
Ideally suited for single-hand use.
Collated strip can be turned 360 degrees.
Durable motor housing.
Market-leading ergonomics.
FEIN high-performance motor.
Switches off without vibration.
Practical hand strap.
Technical data
Power consumption450 Watts
Power output250 Watts
Full load speed0-2,700 rpm
No load speed0-4,000 rpm
Cable with plug16 ft
Show all technical attributes