The FEIN magnetic drilling system.

With more than 25 years of continuous development, FEIN's magnetic drilling technology has achieved a peak of excellence. FEIN's 2011 acquisition of Jancy Engineering raised the bar even higher, now offering the well-known Slugger trademarked system of portable magnetic drills and annular cutters.
Now you're leaving the FEIN website and entering the Slugger website!


CCG 18-125 BL
Cordless angle grinder, 5 [125] in[mm] dia.
Order No. 7 120 02 61 09 0
Return to overview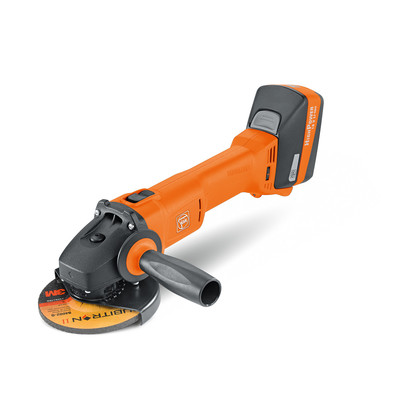 Dust-resistant and powerful cordless angle grinder for effective cutting, grinding and deburring work in installation use.
Guarantees the highest service life with the next generation of brushless FEIN PowerDrive motors. The completely closed motor housing protects the motor against aggressive ceramic and mineral dusts.
Ideal for any application. Optimal speeds, matched to many grinding media and materials thanks to infinitely variable electronic speed setting selection.
High-performance. 30% higher degree of efficiency than comparable universal motors with 1,100 watts of input power.
Maintenance-free motor with innovative cooling fins for optimal heat dissipation including temperature monitoring.
Maximum cutting speed with FEIN HighPower Li-ion batteries. High-current cells with continuously high current output and 75% higher amperage than Li-ion batteries.
Very smooth running and vibration-free operation through the standalone motor—decoupled from the housing—and four additional vibration dampers.
Extensive user protection through soft start, restart protection, electronic overload protection and brake.
Low-fatigue working thanks to a slim grip, compact design and low weight with good balance.
Dust-protected, separate motor electronics in the grip area.
Flexibility with the FEIN MultiVolt interface. Tool can be used with all FEIN Li-ion batteries (12-18 V).
Short set-up times thanks to the tool-free adjustable safety guard and rapid-clamping nut.
Well-lit work area thanks to the integrated LED lamps.
The battery capacity can be read directly on the battery.
FEIN SafetyCell technology. Protects the battery and the machine from overloading, overheating and deep discharge.
3 year FEIN PLUS guarantee, including battery and charger.
Stackable toolbox made from sturdy plastic and space for grinding material and accessories.
** Highest performance with FEIN HighPower Li-ion battery
Price includes
2 battery packs (HighPower Li-ions)

1 x rapid charger ALG 50

1 guard

1 tool-free quick-action clamping nut

1 anti-vibration handle

1 wrench

1 tool case
show all
Technical data
Battery voltage18 V
Battery capacity5,2
Motorbrushless
No load speed2,500 - 8,500 rpm
Grinding wheel Ø5 In
Show all technical attributes
Downloads