The FEIN magnetic drilling system.

With more than 25 years of continuous development, FEIN's magnetic drilling technology has achieved a peak of excellence. FEIN's 2011 acquisition of Jancy Engineering raised the bar even higher, now offering the well-known Slugger trademarked system of portable magnetic drills and annular cutters.
Now you're leaving the FEIN website and entering the Slugger website!


ASCM 12 QC
4-speed cordless drill/driver
Order No. 7 116 10 61 09 0
Return to overview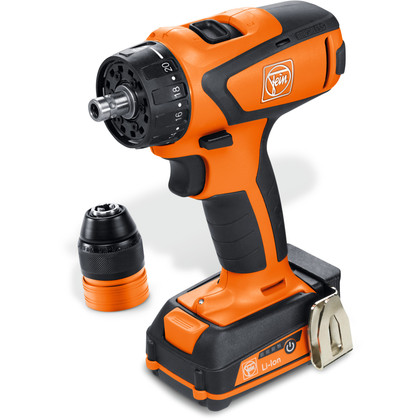 The highest performance cordless drill/driver with brushless motor, 4-speed gearbox and interchangeable chuck.
Brushless FEIN PowerDrive motor, powerful and maintenance-free for maximum efficiency and service life.
Solid metal, interchangeable drill chuck for outstanding load bearing capacity under the toughest conditions.
The optimal cutting speed for every drilling diameter thanks to the 4-speed, solid metal gearbox.
Drill 1/4 in [6 mm] in metal in 4th gear at 2,500 rpm.
Cut threads efficiently in 1st gear.
Optimum speeds for self-drilling screws.
Ideally-graduated speeds for working with step drills
Drill chuck with spindle lock and chucking power safeguard.
Compact 5-7/8 in [150 mm] length (without drill chuck)
2.5 Ah battery capacity for up to 400 screw applications (3/16 x 1-9/16 in [5 x 40 mm]).
FEIN SafetyCell technology. Protects the battery and the machine from overloading, overheating and deep discharge.
The battery capacity can be read directly on the battery.
Includes belt clip and bit garage.
Bright LED light on the housing.
One charger for all voltage classes of FEIN li-ion batteries.
Price includes
1 cordless drill/driver

2 rechargeable batteries (Li-ion)

1 x rapid charger ALG 50

1 belt clip

1 bit garage

1 tool case
show all
Downloads