The FEIN magnetic drilling system.

With more than 25 years of continuous development, FEIN's magnetic drilling technology has achieved a peak of excellence. FEIN's 2011 acquisition of Jancy Engineering raised the bar even higher, now offering the well-known Slugger trademarked system of portable magnetic drills and annular cutters.
Now you're leaving the FEIN website and entering the Slugger website!


GRIT GHBK
Order No. 9 90 01 012 04 0
Return to overview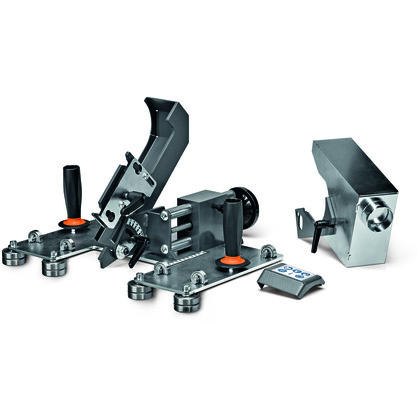 Module with infinitely variable chamfer angles and depth for edge processing.
Less effort, even with large workpieces, as a result of the guide slide mounted on roller bearings.
Infinitely variable chamfer angle (0-60 °) and depth (0-3/4 in [0-20] in[mm]) for the most common requirements.
Extremely efficient while beveling longer and straighter sheets.
Precise edges and homogeneous surfaces in a single work step with very high removal.
System interface—Tool-free conversion to relevant grinding systems.
Clean work areas thanks to removable dust bins and exhaust interface.
The module can be used with GHB 15-50 and GHB 15-50 Inox, depending on the available sanding tasks.
Technical data
Dimensions lxbxw380 x 430 x 215
Belt dimension50 x 39-1/4 In
Weight30 lbs
Downloads