The FEIN magnetic drilling system.

With more than 25 years of continuous development, FEIN's magnetic drilling technology has achieved a peak of excellence. FEIN's 2011 acquisition of Jancy Engineering raised the bar even higher, now offering the well-known Slugger trademarked system of portable magnetic drills and annular cutters.
Now you're leaving the FEIN website and entering the Slugger website!


WSG 17-70 Inox RT
Compact Angle Grinder Ø 5 in
Order No. 7 222 23 60 09 0
Return to overview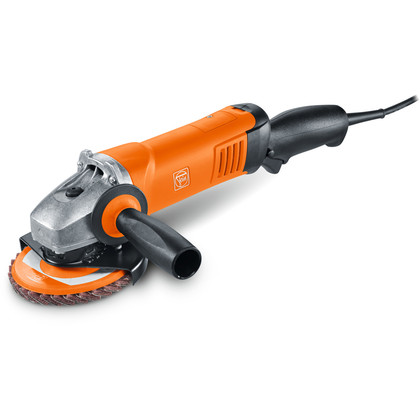 Handy compact angle grinder with FEIN ErgoGrip for fatigue-free working with stainless steel.
FEIN ErgoGrip - unique, sophisticated and patent-pending ergonomic concept for fatigue-free work.
POWERtronic for enormous power, reserve capacity and extremely uniform speed under load.
Extensive operator protection thanks to KickBack Stop, self-start lock, soft start, and electronic overload protection.
AutoStop dead man's switch
The lightest of its type.
Solid metal gear head.
Best vibration values in its class.
13 ft long, HO7 industrial cable.
Technical data
Power consumption1,500 Watts
Power output900 Watts
No load speed2,500 - 8,000 rpm
Cable with plug13 ft
Weight according to EPTA5.5 lbs
Show all technical attributes
Downloads