The FEIN magnetic drilling system.

With more than 25 years of continuous development, FEIN's magnetic drilling technology has achieved a peak of excellence. FEIN's 2011 acquisition of Jancy Engineering raised the bar even higher, now offering the well-known Slugger trademarked system of portable magnetic drills and annular cutters.
Now you're leaving the FEIN website and entering the Slugger website!


BF 10-280 E
Compact belt file
Order No. 7 228 05 50 09 0
Return to overview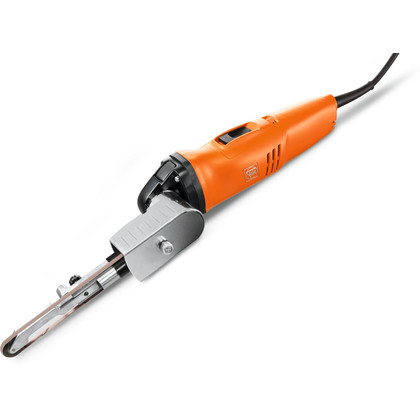 High-performance belt file for corners and edges in stainless steel processing.
FEIN high-performance motor for maximum material removal and constant speed, even under heavy load.
Ideal belt speeds for efficient use of different grinding, fleece, and polishing belts.
Easy operation - Tool-free, 180° arm rotation, tool-free belt installation and alignment.
Perfect belt tracking.
For belts from 3/32 to 3/4 in wide.
Infinitely variable speed. Ideal for protection of sensitive surfaces.
Offset and straight grinding arms for varied applications.
Soft-start.
Self-start lock.
H 07 Industrial-strength cable.
Wide range of accessories available.
Price includes
1 offset grinding arm 1/8 [3] in[mm]/ 1/4 [6] in[mm] (63810026010)
Technical data
Power consumption800 Watts
Power output550 Watts
No load speed10,000-28,000 rpm
Belt speed39-105 ft/sec.
Cable with plug13 ft
Show all technical attributes
Downloads