The FEIN magnetic drilling system.

With more than 25 years of continuous development, FEIN's magnetic drilling technology has achieved a peak of excellence. FEIN's 2011 acquisition of Jancy Engineering raised the bar even higher, now offering the well-known Slugger trademarked system of portable magnetic drills and annular cutters.
Now you're leaving the FEIN website and entering the Slugger website!


Turbo X AC
Wet/Dry Dust Extractor
Order No. 9 20 30 060 09 0
Return to overview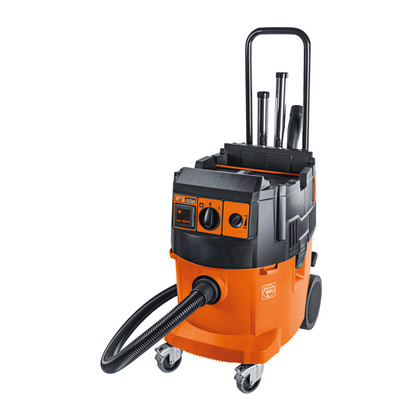 Powerful, dust class L, professional wet / dry vacuum cleaner with fully automatic filter cleaning, for attachment of various case systems, includes extensive accessories.
Tool cases from various systems can be placed on the vacuum lid and secured.
Ergonomic transport of the complete unit, consisting of part tool and vacuum, thanks to push handle, case and accessory fastening.
Fully automatic filter cleaning (AC) for uninterrupted work thanks to the longer service life of the flat pleated filter.
Anti-static function against electrostatic charging during work – electrostatically conductive with optionally available suction hose 3 13 45 120 01 0.
Reliable vacuuming of all types of dirt from liquids to fine dusts.
Approval for dust class L.
With PES flat pleated filter and electronic shutdown for outstanding wet vacuuming performance.
Autostart outlet with power-on delay to prevent current spikes.
25 ft [7.5 m] power cable and 13 ft [4 m] suction hose provide a large operating radius.
Price includes
1 push handle

1 flat pleated filter PES

1 disposal bag

1 suction hose 13 ft [4 m], 1-3/8 in [35 mm] dia.

1 tool coupling with suction control

1 step adapter

2 metal extension tubes, 1 combination tool with interchangeable inserts, 1 crevice nozzle, 1 dusting brush, 1 elbow
show all
Technical data
Maximum power input1,380 Watts
Suction capacity153 cfm
Static water lift98.8 In
Capacity9.3 gal
Weight according to EPTA31.1 lbs
Show all technical attributes
Downloads