The FEIN magnetic drilling system.

With more than 25 years of continuous development, FEIN's magnetic drilling technology has achieved a peak of excellence. FEIN's 2011 acquisition of Jancy Engineering raised the bar even higher, now offering the well-known Slugger trademarked system of portable magnetic drills and annular cutters.
Now you're leaving the FEIN website and entering the Slugger website!


RS 12-70 E – Professional Set Stainless Steel
Stainless Steel Professional-Set
Order No. 7 221 13 51 03 5
Return to overview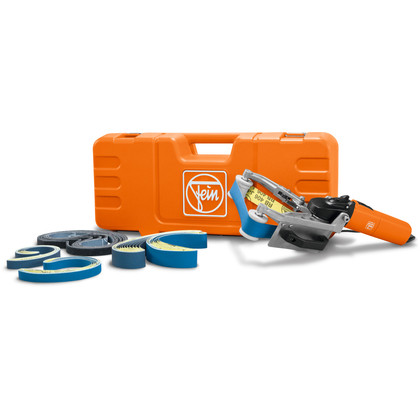 Stainless Steel Professional Set - for standard applications in tube processing.
Efficient grinding of weld seams due to ideal cutting speed of the sanding belts.
Variable speed for grinding, satin finishing and mirror-finish polishing of previously-installed hand rails.
Flexible sanding belts conform themselves perfectly, even on sharp pipe curves, and consequently produce seamless surfaces.
360° circumferential grinding in only 2 steps.
Optional guide roller for limited wall clearance.
Self-start lock.
Wide range of accessories.
Dustproof ball bearing.
Carbon brushes with automatic switch-off function.
Price includes
20 sanding belts 13/16 x 32-1/16 in [20 x 815 mm] (10 each of grits 120 and 180)

20 sanding belts 1-9/16 x 32-1/16 in [40 x 815 mm] (10 each of grits 120 and 180)

5 fleece belts 13/16 x 32-1/16 in [20 x 815 mm], very fine grit 280

1 tool case
Technical data
Power consumption1,200 Watts
Power output750 Watts
No load speed2,700–7,000 rpm
Belt speed72 ft/sec.
Minimum wall clearance2 In
Show all technical attributes