The FEIN magnetic drilling system.

With more than 25 years of continuous development, FEIN's magnetic drilling technology has achieved a peak of excellence. FEIN's 2011 acquisition of Jancy Engineering raised the bar even higher, now offering the well-known Slugger trademarked system of portable magnetic drills and annular cutters.
Now you're leaving the FEIN website and entering the Slugger website!


FEIN MultiMaster Top
Oscillating multi-tool - 350 W
Order No. 7 229 52 61 09 0
Return to overview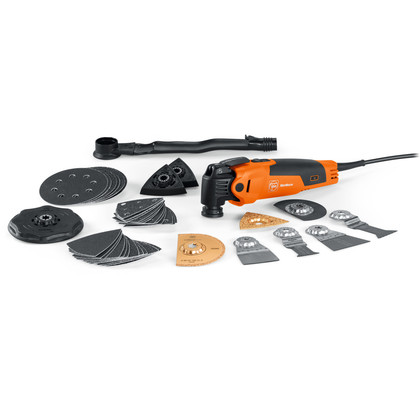 The high performance, universal system for interior construction and renovation with comprehensive accessories for unrivaled versatility.
Self-supporting motor with vibration decoupling for outstanding vibration and noise reduction.
Very powerful 350 Watt FEIN high-performance motor for optimal cutting speeds and maximum work progress.
Highest quality and stability thanks to metal gear case and consistent use of ball or needle bearings.
Convenient QuickIN rapid-clamping system
Electronic speed control with tacho generator for constant speed, even under load.
Integrated interface for mounting additional system accessories.
Softgrip zone provides optimal handling.
StarlockPlus tool mount with outstanding torque transfer, fits all Starlock and StarlockPlus accessories.
Wide selection of accessories available for all applications.
Price includes
1 FEIN MultiMaster FMM 350 QSL

1 backing pad

3 of each sanding sheet (grits 60, 80, 120, 180)

1 perforated backing pad

3 of each sanding sheet (grits 60, 80, 120, 180), perforated

1 sanding disc 4-1/2 in dia. perforated

6 sanding sheets 4-1/2 in perforated (2 each of grits 60, 80, 180)

1 dust extraction assembly

1 rigid scraper blade

1 E-Cut Long-Life saw blade 1-3/8 in (35 mm) (type 160)

1 universal E-Cut saw blade 1-3/4 in (44 mm) (type 152)

1 E-Cut Long-Life saw blade 2-9/16 in (65 mm) (type 161)

1 HSS segment saw blade

1 carbide segment saw blade

1 carbide rasp (triangular)

1 tool case
show all
Technical data
Power consumption350 Watts
Oscillations10,000-19,500 rpm
Weight according to EPTA3.1 lbs
Cable with plug16.4 ft
Sanding pad, corner to corner3-1/8 In
Show all technical attributes
Downloads