The FEIN magnetic drilling system.

With more than 25 years of continuous development, FEIN's magnetic drilling technology has achieved a peak of excellence. FEIN's 2011 acquisition of Jancy Engineering raised the bar even higher, now offering the well-known Slugger trademarked system of portable magnetic drills and annular cutters.
Now you're leaving the FEIN website and entering the Slugger website!


FEIN Professional-Set Auto Glass
Cordless oscillating multi-tool
Order No. 7 136 02 56 02 0
Return to overview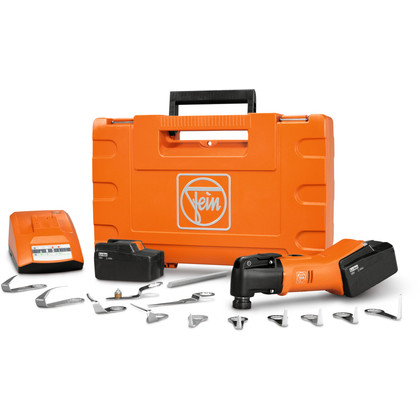 The high-performance system for automotive repair, specially equipped with accessories for the quick and safe removal of auto glass.
High-performance SuperCut Cordless, specifically for use in the auto glass industry.
Complete Set in a high-quality carrying case with the most important accessories for removal of the commonest vehicle windshields.
Convenient, tool-free accessory change, using the QuickIN rapid change system.
Performance capability identical to a corded machine.
High-tech Li-ion battery technology with monitoring of individual cells.
High-performance 18 Volt Li-ion batteries with charge indicator.
Rapid charger with 25-30 min. charge duration for continuous work without interruption.
Outstanding FEIN quality and sturdiness.
Designed for continuous use and heavy loading.
Hexagonal accessory mount for optimal torque transfer.
Long service life of the cutting blades.
Increased safety with L-shaped blades.
Additional cutting blades can be found in the accessory program.
Includes a training DVD.
Technical data
Battery voltage18 V
Battery capacity4
Oscillations11,000-18,500 rpm
Weight incl. battery4.4 lbs
Range2 x 1,7
Show all technical attributes
Downloads