The FEIN magnetic drilling system.

With more than 25 years of continuous development, FEIN's magnetic drilling technology has achieved a peak of excellence. FEIN's 2011 acquisition of Jancy Engineering raised the bar even higher, now offering the well-known Slugger trademarked system of portable magnetic drills and annular cutters.
Now you're leaving the FEIN website and entering the Slugger website!


Rapid charger ALG 40
Order No. 9 26 04 104 01 0
Return to overview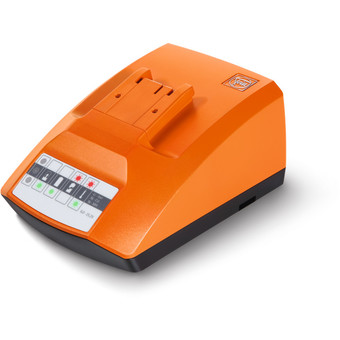 Computer-controlled, approximately 20-60 min. charging time, depending on battery, power consumption 100 Watts, weight 0.7 kg.

Fits:

ASM 14-2 PC (without battery) (ASM 14-2 PC)
,
ASM 14-6-PC (without battery) (ASM 14-6 PC (without battery))
,
ASM 14-9-PC (without battery) (ASM 14-9 PC (without battery))
,
ASM 14-12-PC (without battery) (ASM 14-12 PC (without battery))
,
ASW 14-6-PC (without battery or angle head) (ASW 14-6 PC (without battery or angle head))
,
ASW 14-14-PC (without battery or angle head) (ASW 14-14 PC (without battery or angle head))
,
ASW 18-30 PC (without battery or angle head) (ASW 18-30 PC)
,
ASW 18-45 PC (without battery or angle head) (ASW 18-45 PC)
,
ASW 18-60 PC (without battery or angle head) (ASW 18-60 PC)
,
ASM 14-6 (ASM 14-6)
,
ASM 14-9 (ASM 14-9)
,
ASM 14-12 (ASM 14-12)