The FEIN magnetic drilling system.

With more than 25 years of continuous development, FEIN's magnetic drilling technology has achieved a peak of excellence. FEIN's 2011 acquisition of Jancy Engineering raised the bar even higher, now offering the well-known Slugger trademarked system of portable magnetic drills and annular cutters.
Now you're leaving the FEIN website and entering the Slugger website!


Plastic box
Order No. 3 39 01 119 00 0
Return to overview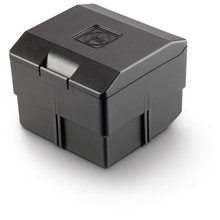 Box insert with lockable lid for small parts and accessories, suitable for tool case 3 39 01 118 01 0.

Fits:

BLS 4.2 (BLS 4.2)
,
SCS 4.8-25 (SCS 4.8-25)
,
SCT 5-40 M (SCT 5-40 M)
,
BLS 3.5 (BLS 3.5)
,
BLK 3.5 (BLK 3.5)
,
BLK 5.0 (BLK 5.0)
,
ASte 638 (ASte 638)
,
SCT 5-40 X (SCT 5-40 X)
,
BLK 1.6 E (BLK 1.6 E)
,
BLK 1.6 LE (BLK 1.6 LE)
,
BLK 2.0 E (BLK 2.0 E)
,
BLK 1.3 TE (BLK 1.3 TE)
,
BLK 1.3 CSE (BLK 1.3 CSE)
,
WSG 8-115 (WSG 8-115)
,
WSG 8-125 (WSG 8-125)
,
WSG 12-125 P (WSG 12-125 P)
,
WSG 11-125 (WSG 11-125)
,
ASCM 14 (ASCM 14)
,
ASCM 14 QX (ASCM 14 QX)
,
ASCM 18 (ASCM 18)
,
ASCM 18 QX (ASCM 18 QX)
,
ASCM 14 C (ASCM 14 C)
,
ASCM 14 QXC (ASCM 14 QXC)
,
ASCM 18 C (ASCM 18 C)
,
ASCM 18 QXC (ASCM 18 QXC)
,
WSG 11-150 (WSG 11-150)
,
WSG 11-125 R (WSG 11-125 R)
,
WSG 11-125 RT (WSG 11-125 RT)
,
WSG 11-150 R (WSG 11-150 R)
,
WSG 11-150 RT (WSG 11-150 RT)
,
WSG 17-125 P (WSG 17-125 P)
,
WSG 17-125 PS (WSG 17-125 PS)
,
WSG 17-150 P (WSG 17-150 P)
,
WSG 17-70 Inox (WSG 17-70 Inox)
,
WSG 17-125 PR (WSG 17-125 PR)
,
WSG 17-125 PRT (WSG 17-125 PRT)
,
WSG 17-150 PR (WSG 17-150 PR)
,
WSG 17-150 PRT (WSG 17-150 PRT)
,
WSG 17-70 Inox R (WSG 17-70 Inox R)
,
WSG 17-70 Inox RT (WSG 17-70 Inox RT)
,
ASzxeu 636-1 (ASzxeu 636-1)
,
ASt 638 (ASt 638)
,
BSS 1.6 E (BSS 1.6 E)
,
BSS 1.6 CE (BSS 1.6 CE)
,
BSS 2.0 E (BSS 2.0 E)
,
BLS 1.6 E (BLS 1.6 E)
,
BLS 2.5 E (BLS 2.5 E)
,
WSG 7-115 (WSG 7-115)
,
GWP 10 (GWP 10)
,
ABSS 18 1.6 E Select (ABSS 18 1.6 E)
,
ABLS 18 1.6 E Select (ABLS 18 1.6 E)
,
ABLK 18 1.3 TE Select (ABLK 18 1.3 TE)
,
ABLK 18 1.3 CSE Select (ABLK 18 1.3 CSE)
,
ABLK 18 1.6 E Select (ABLK 18 1.6 E)
,
CCG 18-115 BL (CCG 18-115 BL)
,
CCG 18-125 BL (CCG 18-125 BL)
,
CCG 18-115 BLPD (CCG 18-115 BLPD)
,
CCG 18-125 BLPD (CCG 18-125 BLPD)