The FEIN magnetic drilling system.

With more than 25 years of continuous development, FEIN's magnetic drilling technology has achieved a peak of excellence. FEIN's 2011 acquisition of Jancy Engineering raised the bar even higher, now offering the well-known Slugger trademarked system of portable magnetic drills and annular cutters.
Now you're leaving the FEIN website and entering the Slugger website!


FEIN Impact Bit Box 29
Order No. 6 05 10 221 01 0
Return to overview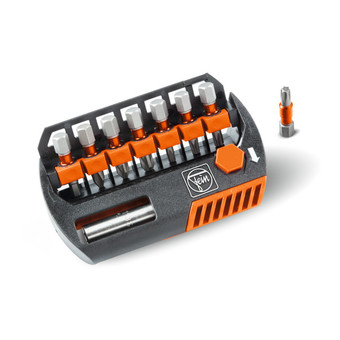 2-component bits (29 mm) made from high quality tool steel alloy, optimally hardened. Maximum torsion zone. Last several times longer than standard 25 mm bits. Also suitable for impact wrenches. Contents: PZ 2, PZ 3, TX15, TX20, TX25, TX30, TX40 + magnetic bit holder.

60° torsion
max. service life
Suitable for impact wrenches
Fits:

ASCM 14 (ASCM 14)
,
ASCM 14 QX (ASCM 14 QX)
,
ASCM 18 (ASCM 18)
,
ASCM 18 QX (ASCM 18 QX)
,
ASCM 14 C (ASCM 14 C)
,
ASCM 14 QXC (ASCM 14 QXC)
,
ASCM 18 C (ASCM 18 C)
,
ASCM 18 QXC (ASCM 18 QXC)
,
ABSU 12 C (ABSU 12 C)
,
ABSU 12 W4C (ABSU 12 W4C)