The FEIN magnetic drilling system.

With more than 25 years of continuous development, FEIN's magnetic drilling technology has achieved a peak of excellence. FEIN's 2011 acquisition of Jancy Engineering raised the bar even higher, now offering the well-known Slugger trademarked system of portable magnetic drills and annular cutters.
Now you're leaving the FEIN website and entering the Slugger website!


Diamond saw blade
Order No. 6 35 02 114 21 0
Return to overview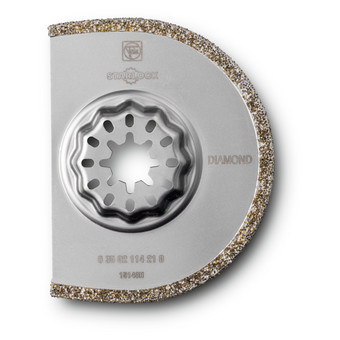 For the removal of marble, epoxy resin and pozzolan grouts. Outstanding tool life. Also suitable for very hard epoxy or cement grouts. The right choice for frequent use and demanding tasks.
Segmented, ideal for working in corners and on edges without over cut. Kerf approx. 3/32 in.

Fits:

AFSC 18 QCSL (AFSC 18 QCSL)
,
AFSC 18 QSL (AFSC 18 QSL)
,
FSC 500 QSL (FSC 500 QSL)
,
FEIN cordless MultiTalent QuickStart (AFMT 12 QSL)
,
FEIN MultiMaster Cordless (AFMM 18 QSL)
,
FEIN MultiMaster Top (FMM 350 QSL)
,
FEIN MultiMaster Start Q (FMM 350 QSL)
,
FEIN MultiMaster QuickStart (FMM 350 QSL)
,
FEIN MultiTalent Start Q (FMT 250 QSL)
,
FEIN Professional-Set Wood (FSC 500 QSL)
,
AFSC 18 QSL - Wood (AFSC 18 QSL)
,
FEIN Professional-Set Caulking (FSC 500 QSL)