The new FEIN cordless angle grinders with innovative PowerDrive motor.
Durable, powerful and robust:
The next generation: The new FEIN cordless grinders
Powerful, 30% higher efficiency
compared with universal motors with a rated output of 1100 W.
Ideal for various applications
Optimum speeds, matched to a large number of abrasive materials and other materials using the infinitely variable, electronic speed preselection.
Maximum work progress
with FEIN HighPower Li-ion batteries. Cells capable of high currents with continually high power output. In addition, as the high power batteries have 75% higher current ratings than the Li-Ion batteries, it allows the user to make up to 41% more cuts.*
Durable, brushless FEIN PowerDrive motor
fully encapsulated and maintenance-free.
Focus on user protection:
Brake for rapidly bringing wheel to a stop.Restart protection protects against switching back on unintentionally.Overload protection for electronics and motor.Soft start to evenly and safely power up the tool.
Dividing, deburring, roughing-down, preparing for welding or surface grinding—with FEIN, you always find the right grinding system for the perfect result.
Compact angle grinders
Large angle grinders
Die Grinders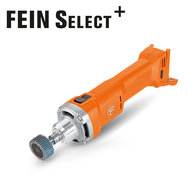 AGSZ 18-280 BL Select Cordless die grinder
Compare
Note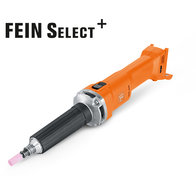 AGSZ 18-280 LBL Select Cordless die grinder
Compare
Note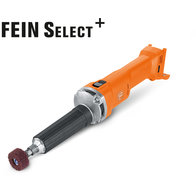 AGSZ 18-90 LBL Select Cordless die grinder
Compare
Note
The new heart: the innovative FEIN PowerDrive motor.
Requires no maintenance and experiences little wear

giving the machine a long life.

No need to change carbon brushes.

Very smooth running and low-vibration working

due to independently mounted motor decoupled from the housing and four additional vibration dampers.

Quick-stop function

without mechanical brake.

Innovative cooling ribs

for optimum heat dissipation, including monitoring of temperature in the motor's core to protect against overload.

Speed stability

for significantly higher speed consistency at load compared to universal motors.