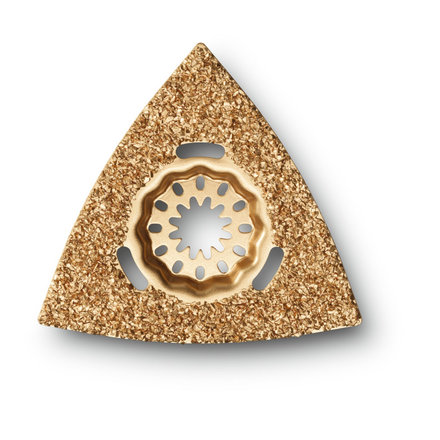 Carbide rasp
For rough sanding of fillers, tile adhesive, concrete, stone and wood.
Triangular shape, edge length of 80 mm, perforated, can also be used with dust extraction.
Fits the accessories on your machine?
Test compatibility and find your perfect matching accessory for your oscillator.
Check now
Remove signs of weathering and old paint
Smooth tile adhesive and grind it level
Starlock: the new tool mounting standard for oscillating power tools.
Sometimes it's the details that count. This is certainly true for Starlock, the new innovative tool mounting. It makes tool changes possible in just 3 seconds. At the same time, it guarantees a perfect fit for accessories and therefore maximum power transmission. This results in even more work progress in every application.
3 performance classes for reliable protection of power tools against overload and damage.
suitable for:
FEIN MultiTalent
FEIN MultiMaster
FEIN SuperCut
Bosch, Makita, Ridgid, Milwaukee and many more.
FEIN MultiTalent
FEIN MultiMaster
FEIN SuperCut
Bosch