Battery-powered FEIN MultiMaster
Battery-powered oscillating multi-tool
Order no. 7 129 22 61 24 0
Back to overview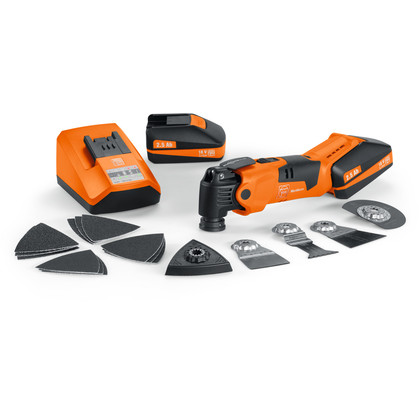 The high-performance, battery-powered universal system for interior work and renovation with QuickIN and accessories for a wide range of applications.
Self-supporting motor with vibration decoupling for outstanding vibration and noise reduction.
High-torque motor with exactly the same power as the mains-powered version.
Convenient accessory changes without the need for extra tooling with the QuickIN clamping system.
StarlockPlus tool mounting with outstanding torque transfer, suitable for all Starlock and StarlockPlus accessories.
Powerful 18 V Li-ion batteries with SafetyCell technology.
Charge indicator on each battery.
Integrated interface for attaching additional system accessories.
Wide range of accessories available for all applications.
Price includes
1 FEIN cordless MultiMaster AFMM 18 QSL

1 sanding pad

Sanding sheets, 3 each of grit 60, 80, 120, 180

1 fixed scraper

1 HSS segment saw blade

1 E-Cut long-life saw blade (65 mm)

1 Universal E-Cut saw blade (44 mm)

1 rapid charger ALG 50

2 Li-ion battery packs (18 V / 3 Ah)

1 plastic carrying case
Show all
Technical data
Battery voltage18 V
Battery capacity3 Ah
Weight with battery1,8 kg
Tool HolderStarlockPlus
Tool changeQuickIN
Show all technical attributes
Sound- and vibration emission values please see here:
Downloads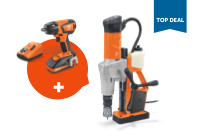 Promozione
RICEVERETE IN OMAGGIO UNA CHIAVE BATTENTE DA 18 V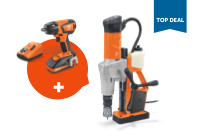 FEIN Promotion
CORDLESS IMPACT WRENCH for free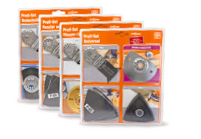 The Great British Professional Sets
The same FEIN premium quality but at a better value price.