KBB 38
Metal core drilling unit up to 38 mm
Order no. 7 272 02 61 24 1
Back to overview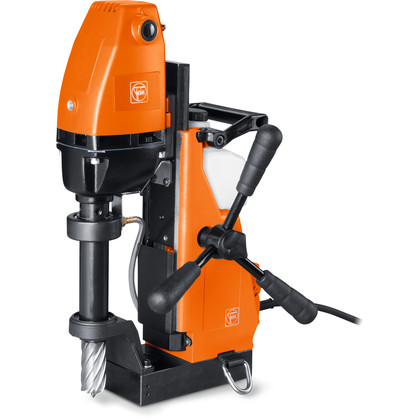 For precise drilling on the construction site.
Stable torque drill motor for challenging core drilling.
Special drill spindle guide maintains concentricity and ensures reliable core ejection.
Solid die-cast aluminium construction for work under adverse conditions.
Integrated coolant tank.
Concealed motor wiring
Extra handle for easy transport.
Feed handwheel can be moved from one side to the other.
Price includes
1 case

1 coolant tank

1 lashing strap

1 swarf hook

2 centering pins

1 contact guard

1 socket head wrench 5 mm

1 carry handle
Show all
Technical data
Carbide core drill bit max. diameter38 mm
HSS core drill max. Ø38 mm
Core drill, drilling depth max.50 mm
Input1 050 W
Output530 W
Show all technical attributes
Sound- and vibration emission values please see here:
Downloads