FEIN SuperCut MOtlx 6-25
Oscillating multi-tool - compressed air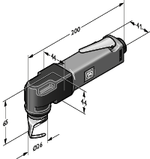 ---
FEIN SuperCut MOtlx 6-25
Oscillating multi-tool - compressed air
The powerful pneumatic oscillator for cargo.
Product number: 7 536 03 00 01 0
Details
Available with a comprehensive range of accessories for professional use in many industry sectors.
Powerful oscillating motion with amplitude of 2 x 1.6 degrees for maximum work progress.
Ideal for removing bonded panes from lorries, buses and rail vehicles.
Small size.
Supplied with inlet and outlet air hose.
No air leaks, no oil misting in working area.
Hexagonal tool mounting.
Technical data
Manual with screw, hexagon socket
Vibration and sound emission values
Uncertainty of measured value KpA
Uncertainty of measured value KWA
Uncertainty of measured value KpCpeak
---
Price includes
2 keys
1 plastic carrying case