FEIN professional set for tile restoration/bathroom renovation
Battery-powered oscillator
Order no. 7 129 27 67 00 0
Back to overview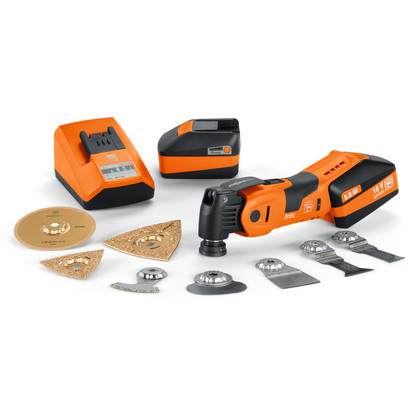 The most powerful system for interior work and renovation with special accessories for perfect removal of tiles and joints in bathroom renovation.
High-performance battery-powered SuperCut developed specially for use in tile restoration/bathroom renovation.
Complete set in high-quality tool case with the key accessories for the most common applications in this area.
For accurate and clean installation and renovation work producing very little dirt and dust.
StarlockMax tool mounting with outstanding torque transfer, suitable for all Starlock, StarlockPlus and StarlockMax accessories.
Same performance as the mains-powered tool.
State-of-the-art Li-ion technology with individual cell monitoring.
Powerful 18 V Li-ion batteries with charge control display.
Rapid charger for continuous working without interruption.
Convenient QuickIN quick clamping system.
Outstanding FEIN quality and stability.
Designed for continuous use and high loads.
Price includes
1 FEIN cordless SuperCut AFSC 18 QSL

1 segment blade, diamond-coated (form 243)

1 carbide saw blade, diameter 105 mm (form 214)

2 E-Cut universal saw blades (form 151, 152)

1 Cutter blade, mushroom shaped

1 Stopper knife

2 Rasps, carbide-coated, triangular, perforated for dust extractor

2 Li-ion battery packs (18 V / 6 Ah)

1 battery charger

1 plastic carrying case
Show all
Technical data
Battery voltage18 V
Battery capacity6 Ah
Oscillations10 000-19 500 rpm
Weight with battery1,8 kg
Amplitude2 x 2,0 Degrees
Show all technical attributes
Downloads