FEIN composite professional set
Oscillator - 450 W
Order no. 7 229 46 67 00 0
Back to overview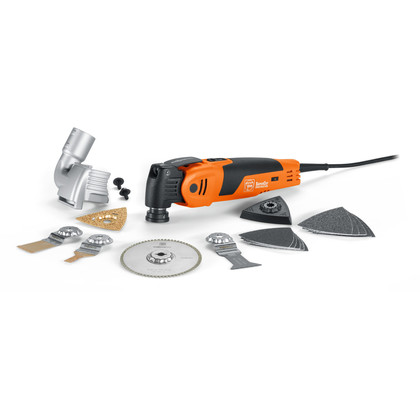 The most powerful system for interior work and renovation, for all key applications in the machining of CFRP and GRP parts.
Maximum quality and stability thanks to the use of ball / needle roller bearings and a motor and gearbox designed for continuous use at high load.
Convenient QuickIN quick clamping system.
StarlockMax tool mounting with outstanding torque transfer, suitable for all Starlock, StarlockPlus and StarlockMax accessories.
Design principle ensures extremely low dust emission when sawing.
Complete equipment for sawing, filing and repair work on CFRP and GRP parts.
Price includes
1 FEIN SuperCut FSC 500 QSL

1 E-Cut universal saw blade (form 152)

1 diamond saw blade, diameter 105 mm

1 E-Cut carbide saw blade (form 191)

1 carbide file

1 sanding pad

5 Sanding sheets each grit size (K 80, 120, 180)

1 carbide-coated rasp, triangular, perforated for dust extraction

1 dust extraction device

1 plastic carrying case
Show all
Technical data
Input450 W
Output250 W
Oscillations10 000-19 500 rpm
Cable with plug5 m
Weight according to EPTA1,6 kg
Show all technical attributes
Downloads