WPO 14-25 E
Polishers
Order no. 7 221 49 51 01 0
Back to overview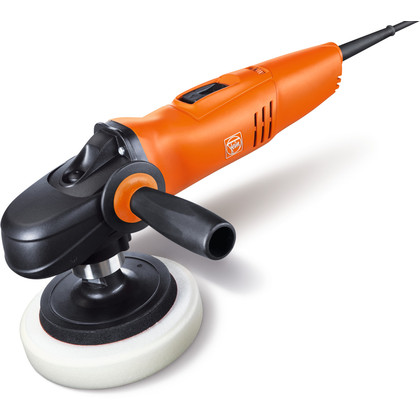 Extremely powerful angle polisher for refurbishing paintwork.
Ideal speed range with infinitely variable speed control for professional surface processing on vehicles and boats.
Maximum speed stability at any load over the full setting range thanks to mechanical gear reduction in conjunction with the FEIN high-power motor.
Special system accessories for the efficient refurbishment of used car paintwork, new car paintwork and highly scratch-resistant paints, and for cleaning, sanding and polishing boat surfaces and gelcoat layers.
Excellent handling.
Spindle lock.
Right or left-handed operation.
Restart protection.
Soft start.
H 07 industrial cable.
Dustproof ball bearing.
Carbon brushes with self cut-off function.
Comprehensive range of accessories available.
Tool also available without accessories (7 221 49).
Price includes
1 anti-vibration handle

1 Grip hood

1 Support plate with Velcro attachment, Ø 150 mm

1 Polishing sponge, Ø 150 mm, medium
Technical data
Input1 200 W
Output750 W
Speed, no load900-2 500 rpm
Cable with plug4 m
Weight according to EPTA2,5 kg
Show all technical attributes
Downloads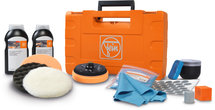 Paint refurbishing and finishing set
Ideal range of accessories for refurbishing weathered and new paintwork. Also perfectly suited to finishing fresh paintwork (not suitable for matt paintwork). Plastic case contains: 1 FEIN single-stage polish, 1 kg; 1 FEIN top wax paint seal, 1 kg; 1 support plate, 150 mm; 1 lambskin, 150 mm; 2 medium-hard orange polishing sponges, 150 mm; 1 waffle pad; 53 mini sanding discs, grit 2800; 1 manual sanding block; 1 moistening cube; 1 cleaning putty, 200 g; 2 microfibre cloths.