FEIN professional set for repairing/replacing windows
Battery-powered oscillator
Order no. 7 129 27 66 00 0
Back to overview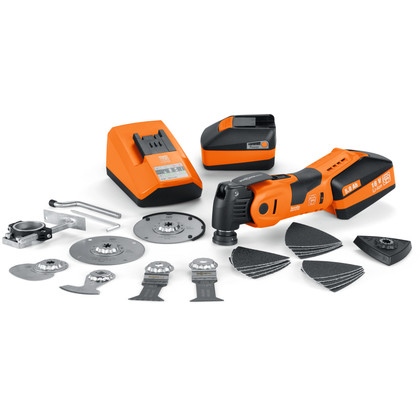 The most powerful system for interior work and renovation with special accessories for dismantling old windows and replacing putty-mounted insulating glass.
High-performance battery-powered SuperCut designed specially for use in repairing/replacing windows with a time saving of up to 80%.
Complete set in high-quality tool case with the key accessories for the most common applications in this area.
Ideal for use on the construction site to remove old window frames without damaging the walls or plaster, or alternatively to repair insulated windows.
StarlockMax tool mounting with outstanding torque transfer, suitable for all Starlock, StarlockPlus and StarlockMax accessories.
Same performance as the mains-powered tool.
State-of-the-art Li-ion technology with individual cell monitoring.
Powerful 18 V Li-ion batteries with charge control display.
Rapid charger for continuous working without interruption.
Convenient QuickIN quick clamping system.
Outstanding FEIN quality and stability.
Designed for continuous use and high loads.
Price includes
1 FEIN cordless SuperCut AFSC 18 QSL

1 HSS saw blade wood Ø 100 mm

1 HSS saw blade for metal (diameter 100 mm)

1 E-Cut long-life saw blade (form 203)

1 E-Cut universal saw blade (form 152)

1 Cutter blade, mushroom shaped

1 segment saw blade (form 244)

1 depth stop

1 sanding pad

5 Sanding sheets each grit size (K 80, 120, 180)

2 Li-ion battery packs (18 V / 6 Ah)

1 battery charger

1 plastic carrying case
Show all
Technical data
Battery voltage18 V
Battery capacity6 Ah
Weight with battery1,8 kg
Oscillations10 000-19 500 rpm
Amplitude2 x 2,0 Degrees
Show all technical attributes
Downloads