FEIN SuperCut FSC 1.7 Q Auto Glass
Oscillating multi-tool - 450 W
Order no. 7 229 48 62 00 0
Back to overview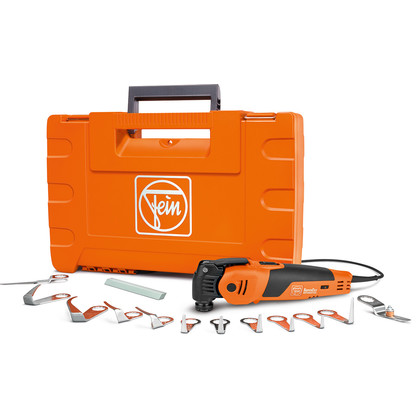 The powerful system for vehicle repairs - solely and ideally for applications in the automotive industry with special accessories for quick and safe removal of vehicle windows.
Optimally compiled set for removing the most common types of vehicle windscreen.
FEIN anti-vibration system. Up to 70% fewer vibrations as the external motor housing is completely separate. For permanently safe working.
450 W FEIN high-power motor with high copper content for outstanding cutting speeds and maximum work progress, suited to continuous use and overload.
Tacho generator. High-quality electronics for constant speeds under load. Infinitely variable electronic speed setting.
Hexagonal tool mounting with frictional connection between machine and tool.
Metal gearbox. Ability to withstand high loading and outstanding service life.
Large working radius thanks to finely stranded 5 metre rubber cable of industrial quality.
Large selection of accessories, including those for cutting, grinding and scraping.
Price includes
3 L-shaped cutter blades, toothed (form 207)

2 L-shaped cutter blades, toothed (form 208)

1 L-shaped cutter blade, toothed (form 209)

1 each U-shaped cutter blade, reinforced design (forms 157 and 111)

2 U-shaped cutter blades, reinforced design, toothed (form 212)

1 Straight cutter blade, Z-bend, with adjustable roller stop (form 143)

1 Straight cutter blade, Z-bend, toothed (form 081)

1 protective cover for tool changes

1 sharpening stone (6 37 19 010 01 4)

1 plastic carrying case
Show all
Downloads