ASCT 18 M Select
Dry wall screw gun
Order no. 7 113 16 64 00 0
Back to overview

FEIN Select+ offers you the possibility to combine several 18 V cordless machines for professional metalworking as required - with or without FEIN batteries and chargers.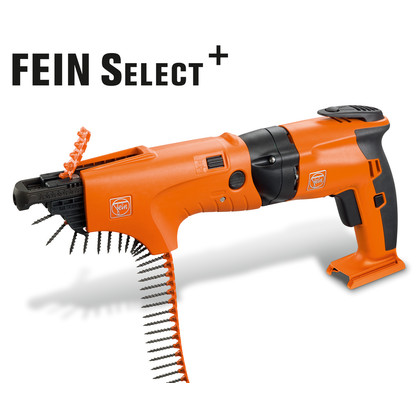 Powerful autofeed screwdriver for more than 2,300 repeated screw fittings per battery charge.
Suited to all screwdriving applications in drywall construction, including high-strength chipboard and hard sheets of drywall.
Low weight and perfect weight distribution for fatigue-free working.
Brushless FEIN PowerDrive motor, fully encapsulated and dust-protected with 30% higher efficiency and long service life.
One of the lightest screwdrivers in its class.
Rapid charger for continuous working without interruption.
2,000 charge cycles per battery pack.
Quiet and vibration-free cut-off with FEIN CLIC-STOP clutch.
The particularly dust-resistant magazine can be inserted and removed without the use of tools and is easy to clean.
Market-leading ergonomics with FEIN Sensitive handle.
Easily adjustable and replaceable depth stop.
Dustproof stop sleeve.
Price includes
1 cordless drywall screw gun

1 Collated cartridge for collated screws

1 long bit for magazine screw connections

1 bit with dust protection ring

1 bit holder

1 depth stop

1 hook

1 belt clip

1 plastic carrying case
Show all
Technical data
Battery voltage18 V
Speed, full load0-2 700 rpm
Speed, no load0-4 000 rpm
Max. torque (hard/soft)14/7 Nm
Screw Ø4,2 mm
Show all technical attributes
Downloads